Buick Riviera (1963)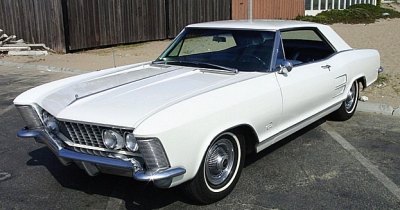 American car design reached the peak in the ten years between late 1950s and late 1960s. During that period, General Motors had the world's most powerful design department and the most resources to realize any dream designs. Working under the leadership of its design chief Bill Mitchell, GM's studio produced countless of landmark designs, such as the 1959 Cadillac, Chevrolet Corvette Sting Ray, Oldsmobile Tornado and this one, Buick Riviera.




Buick Riviera was regarded by many as the most beautiful touring car design ever created by American car makers. In contrast to the flamboyant designs popular then, the Riviera's design language was clean and subtle. It combined European detailing with American shape. Its trademark was the razor-sharp front fenders and the egg crate grille recessed between them.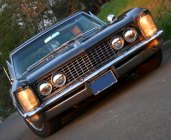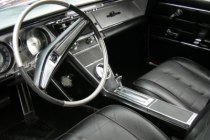 Design aside, the Riviera was rather conventional - separate body and frame chassis, live axle rear suspensions on coil springs, push-rod V8 engine and automatic transmission. As a luxury touring car, its steering was light and its ride was soft. The Buick V8 displaced either 6.6 liters or 7.0 liters, producing 325 hp or 340 hp and enabling good performance.
Specifications
Model

Buick Riviera 401


Buick Riviera 425




Year of production


All: 1963-65

All: 1963-65
No. produced

All: 112,224 units

All: 112,224 units

Layout, Gearbox

Front-engined, Rwd, 2A


Front-engined, Rwd, 3A
Size (L / W / H / WB)

5283 / 1938 / 1346 / 2972 mm

5283 / 1946 / 1346 / 2972 mm

Engine

V8

, ohv, 2v/cyl


V8

, ohv, 2v/cyl

Capacity

6580 cc


6970 cc


Power

325 hp (gross)


340 hp (gross)

Torque

445 lbft (gross)


465 lbft (gross)

Weight

1900 kg


1905 kg


Top speed

125 mph / 116 mph**


127 mph*


0-60 mph

8.1 sec**


7.7 sec*

0-100 mph
N/A
25.0 sec*


* Tested by Car Life
** Tested by Motor Trend


---
Copyright© 1997-2009 by Mark Wan @
AutoZine