Pontiac GTO (1964)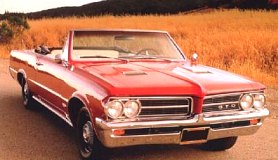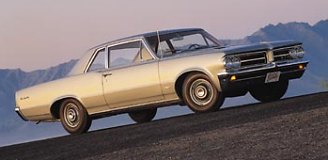 1964 GTO


It looked ugly. It excelled only in straight line acceleration. When it approached corners, a tractor could out-handled it. But to the majority of American car enthusiasts, Pontiac GTO has an irreplaceable status in automotive history. This is because it was the pioneer of "muscle cars". The term "muscle cars" refers to those affordable mid-size cars employing very big and powerful V8 engines to provide astonishing 1/4 mile acceleration. From 1964 to 1972 was the golden years of muscle cars. All American car makers - or virtually all of their divisions - rushed to produce multiple muscle models to satisfy the hot demand from car enthusiasts.

Before the muscle car era, car makers applied big V8 engines only on their expensive full size cars. However, in 1964, Pontiac's chief engineer John Z. DeLorean decided to break the rule and put a 389 cubic inch (6.4-liter) V8 into the mid-sized Pontiac Tempest. This created an affordable performance car. With 325 hp in standard form or 348 hp in high performance form, the relatively lightweight Tempest GTO delivered stunning performance. Car Life magazine found the high output model needed only 6.6 seconds to go from rest to 60 mph and 1/4 mile acceleration took only 14.8 seconds. The GTO became an immediately success. Some 32,450 units were sold in the first year. Another 254,000 units followed in the next 3 years. DeLorean opened a new era - the muscle car era.

Frankly, the Pontiac GTO was all about performance per dollar. Its talent was limited to stop watch and straight road. Front-heavy, slow steering and weak brakes ruined its handling. Blame to gearing and wind-blocking shape, top speed was a laughable 115 mph. Ridiculously, John Z. DeLorean chose the same name as Ferrari's 160 mph supercar, the 250 GTO, but without explaining its meaning. Obviously, the Pontiac was neither a Grand Turismo nor a homologation special.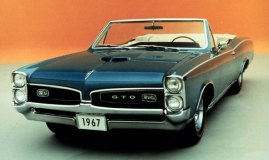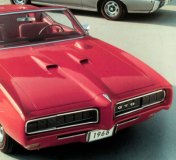 Left: 1967 GTO slightly restyled; Right: 1968 GTO completely restyled
Specifications
Model

Pontiac Tempest GTO (1964)


Pontiac Tempest GTO (1965)




Year of production


1964-67

1964-67
No. produced

286,460 units

286,460 units

Layout, Gearbox

Front-engined, Rwd, 4M


Front-engined, Rwd, 4M

Engine

V8

, ohv, 2v/cyl


V8

, ohv, 2v/cyl.


Capacity

6376 cc

6376 cc


Power

348 hp (gross)


360 hp (gross)

Torque

428 lbft (gross)

431 lbft (gross)

Weight

1574 kg


1628 kg


Top speed

110 mph


114 mph*


0-60 mph

6.6 sec*


5.8 sec*

0-100 mph
14.9 sec*
14.5 sec*

* Tested by Car Life


---
Copyright© 1997-2009 by Mark Wan @
AutoZine