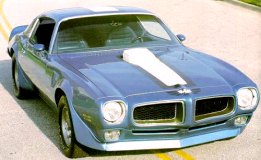 Apart from Pontiac Firebird, I think no other American cars could raise our interest in 1970s. During that decade, American cars were declining in all aspects – most obviously power and performance, but also styling and quality. That is why few American cars born that period could enter our classic car archives. Pontiac Firebird was a rare exception. Although its engines were inevitably hit by the energy crisis, tightening emission regulations and the pressure from insurance companies, it kept committed to performance until the very last moment. For instance, it kept offering the last big Pontiac 455 cu (7.5-liter) V8 until 1976, by then it still cranked out a respectable 200 net horsepower and 330 lb-ft of torque. That was four to five years after Camaro and Mustang dropped their oversized V8s.




Since its birth in late 1967, Pontiac Firebird had been the twins sister of Chevrolet Camaro. Both cars were based on GM's F-body platform but the Pontiac employed its own engines. The first generation Firebird was less loved as it looked like a Camaro with a strange nose. On the contrary, the second generation from 1970 bettered its sibling in styling. Especially in hot version Trans Am, it had a more beautiful nose, massive aero kits and powerful hood scoop to excite the American public. It also knew how to please car enthusiasts by cosmetic gimmicks, such as a big firebird decal on the hood and a JPS-style black and gold color scheme. They pushed the sales to new height in the late 70s.

However, in terms of performance, the early 1970s Firebirds were definitely better. As usual for pony cars, Pontiac offered countless of engines to the car: from a Chevy straight-6 to the range-topping 400 cu (6.6-liter) V8 employing ram air intake to produce 370 gross horsepower and 445 lb-ft of torque. An alternative was a 455 cu (7.5-liter) High Output V8 which produced 335 horsepower and 480 lbft in a more effortless way. Pontiac also produced a handful of Firebird using the SD (Super Duty) 455 V8, which was a race-ready engine employing aluminum pistons, large valves and exhaust manifolds, fast camshaft and reinforced engine block. It produced 370 horses and 390 lb-ft in the more realistic net output rating which became effective from 1972. Even Ferrari 365GT4/BB, the world's most exotic supercar then, produced 10 horses less than the Firebird SD-455 !




Firebird survived the two energy crisis in the 70s and the Japanese attack in the 80s, but it could not stand the shrinking market for traditional big coupes. It finally went into history in 2002 together with Camaro.