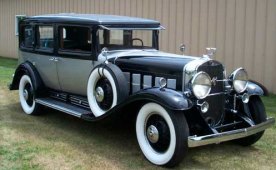 Today, Cadillac might be a second division player in the luxury car market, but until late 1950s it was usually considered as the world standard for luxury cars. Its fame peaked at 1930, when it launched the world's first V16-powered car, Cadillac 452, or what we commonly refer to "Cadillac V16" or "Cadillac Sixteen" today.

The V16 was conceived at a time when American was getting increasingly rich. They could afford the most luxurious cars in the world, such as Bugatti, Hispano Suiza and Rolls-Royce, no wonder American luxury car makers like Cadillac, Duesenberg and Parkard also rushed to build ultra-luxury cars since the late 1920s. At that time, people still considered the more cylinders the better the cars, so American car makers started producing V8, V12 and eventually V16.

Cadillac's V16 was constructed by mating two Buick inline-8 engines into a common crankshaft. The V-angle was 45 degree for optimum smoothness. The push-rod-actuating overhead valves was an advanced design, although Duesenberg bettered it by offering twin-cam heads and 4 valves per cylinder. The 7.4-liter (452 cu) engine produced a slightly disappointing 175 horsepower, but with tremendous low-down torque it pulled the car to cruising speed effortlessly, resulting in remarkable smoothness and quietness.

Comparatively, the chassis and other aspects of the car was rather conventional. It came with standard bodyworks built by Fleetwood or Fischer – the two coachbuilders absorbed by the GM empire. However, the build quality was superb and the styling was graceful – it was one of the earliest designs by Harley Earl – the long-time design maestro of GM.

Cadillac V16 represented the peak of American luxury cars. In the first half of 1930, Cadillac sold a solid 2,000 V16s. Unfortunately, the Wall Street crash in late 1929 finally dragged the country into deep depression since the second half of 1930. Then came the World War II. As a result, from mid-1930 to 1940 Cadillac could sell only another 2,000 cars. The investment into V16 was never recovered. Cadillac survived under the umbrella of GM, but since then it had never produced a car so expensive.