Cadillac Eldorado Brougham (1957)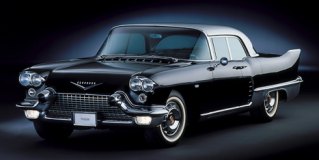 The fortune of American car makers reached the peak in the late 1950s. They dominated the majority of the world's car production and started getting ego. No longer contented with making mass production cars, they tried to enter the territory of Rolls-Royce only for the purpose of declaring their excellence. In this way, Ford launched a US$10,000 luxury car called Continental Mark II in 1956. Next year, GM responded with Cadillac Eldorado Brougham, priced at a staggering US$13,000. That's twice the price of the next dearest Cadillac and even more expensive than a Rolls-Royce !

What US$13,000 bought you was a mostly hand-built car with all the luxury features - air conditioning, individual front and rear ventilation system with underseat blowers, 6-way electric seats with 2 memory setting, power windows, power central locking, power boot lid, cruise control and the very first air suspension. The sheer size of the car was also a statement of luxury - some 5.5 meters long and weighs 2.4 ton. Its elegant styling incorporated a pair of stylish tail fins, brushed stainless steel roof and suicide rear doors as the Hardtop design lacked B-pillars. This styling was one of the very best American luxury car designs ever made. Later designs would evolve to be more and more flamboyant.

The big Eldorado Brougham was powered by a high-compression 6-liter V8 producing 325hp and drove through a 3-speed automatic gearbox. Its air suspension used compressors to adjust ride height and stiffness, although it was found to be unreliable and problematic. Only 904 units were produced between 1957 and 1960. Every car was sold at a loss, but as mentioned, GM wanted to demonstrate its ability through the car rather than to make money.

Specifications
Model

Cadillac Eldorado Brougham


Year of production


1957-60

No. produced

904 units


Layout, Gearbox

Front-engined, Rwd, 3A


Size (L / W / H / WB)

5495 / 1995 / 1410 / 3200 mm


Engine

V8

, ohv, 2v/cyl


Capacity

5972 cc

Power

325 hp (gross)


Torque

400 lbft (gross)


Weight

2410 kg


Top speed

110 mph


0-60 mph

11.4 sec

---
Copyright© 1997-2009 by Mark Wan @
AutoZine