1959 Cadillac (1959)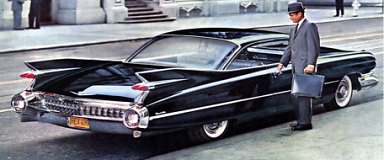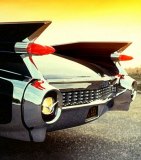 Is this a car or an aircraft ? Detroit's flamboyant design era reached the peak with the 1959 Cadillac. It featured a lot of chromed plating and an aircraft-like tail with large vertical fins and jet engine-style tail lights. These excessive metal works added to the enormous length and weight of the car, but they made a strong statement of style. People who didn't like it described it as extravagant and poor taste. People loved it said it reflected the superpower of United States in the late 1950s and the futuristic mind of the American then. Anyway, the 1959 Cadillac has become one of the most sought after American collectibles today.

The 1959 Cadillac was a family series available in various model names (Series 62, De Ville, Eldorado and Fleetwood) and body styles (2-door coupe, 4-door sedan with 4 windows, 4-door sedan with 6 windows, convertible and limousine). However, all were basically the same car underneath the slightly different clothes. They were huge - some 5.7 meters long in standard form - and weighty. A special X-frame chassis allowed the 6.4-liter V8 engine mounted lower and said to benefit handling, although no one actually believed this dinosaur to handle well. The V8 produced 325 horsepower in standard form while the pricier Eldorado added another 20 hp thanks to the use of higher performance carburettors. Obviously, they were horribly thirsty, but the American were so wealthy that they bought over 142,000 units of Cadillac in 1959.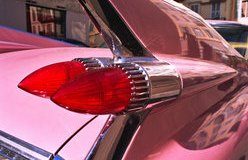 Specifications
Model

1959 Cadillac Coupe De Ville


Year of production


1959

No. produced

All 1959 Cadillac: 142,272 units


Layout, Gearbox

Front-engined, Rwd, 3A


Size (L / W / H / WB)

5791 / 2040 / 1382 / 3302 mm


Engine

V8

, ohv, 2v/cyl


Capacity

6384 cc

Power

325 hp (Eldorado: 345 hp) (gross)


Torque

430 lbft (Eldorado: 435 lbft) (gross)


Weight

2140 kg


Top speed

121 mph


0-60 mph

11.0 sec

---
Copyright© 1997-2009 by Mark Wan @
AutoZine