Ford Thunderbird (1955)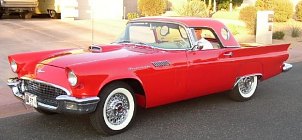 Originally intended to rival Chevrolet Corvette and imported British sports cars, Thunderbird turned out to be a luxurious 2-seater Grand Tourer, emphasizing tasteful design, ease of driving and luxury equipment. This marketing strategy was proved to be successful in the ever wealthier United States, with 53,166 units sold in 3 years until the second generation arrived. For the same period, Chevrolet sold only 10,506 Corvettes.

The original T-bird was a convertible with glass-fiber hardtop or fabric soft roof. While it was much bigger than British sports cars, by American standard it was quite compact (4.5 meters long and 1.8 meters wide) and lightweight (1442 kg in basic form). While it wasn't a real sports car, it was by no means slow, capable of accelerating from zero to 60 mph in 9.5 seconds even when equipped with a 3-speed self-shifter that most people chose (3-speed manual was standard). This must thanks to a 4.8-liter (292cid) ohv V8 which pumped out 198 horsepower. Later cars even offered a stronger 5.1-liter (312cid) V8 with various state of tune - 225hp, 245hp, 275hp and even a rare 340hp supercharged unit ! Contemporary European performance cars should be jealous for its cheap source of mass production Detroit V8s.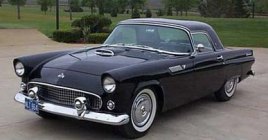 Of course, straight line speed does not equal to good handling. The T-bird had never matched Corvette or Jaguar XK140 for roadholding, agility or braking. After all, its suspensions, steering and brakes came from Ford's mass production parts pool, while the tuning had never tried to be sporty. I suppose few people would remember the T-bird for its handling.

Instead, the styling still attracts a lot of appreciations today. The first generation Thunderbird hit the right balance between European-style elegance and American-style flamboyant. Later American cars – including later T-birds - would get increasingly flamboyant, over-decorated and oversized to the extent that they lost any sense. Now looking back, the Mk1 Thunderbird was born in the best of time.

Specifications
Model

Thunderbird 292


Thunderbird 312




Year of production


All Mk1: 1955-57

All Mk1: 1955-57
No. produced

All Mk1: 53,166 units

All Mk1: 53,166 units


Layout, Gearbox

Front-engined, Rwd, 3A


Front-engined, Rwd, 3A

Engine

V8

, ohv, 2v/cyl


V8

, ohv, 2v/cyl

Capacity

4785 cc

5112 cc


Power

198 hp (gross)


225 hp (gross)

Torque

285 lbft (gross)

324 lbft (gross)

Weight

1442 kg


N/A


Top speed

110 mph*


114 mph*


0-60 mph

9.5 sec*


9.3 sec*


* Tested by R&T


---
Copyright© 1997-2009 by Mark Wan @
AutoZine