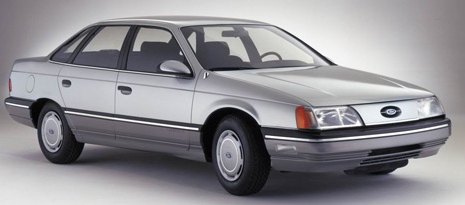 Since the last energy crisis, Detroit had been losing market share to Japanese car makers. The Japanese invasion came with superior build quality, high-tech engines, frugality and great attention to details. In contrast, Detroit Big 3 were still making craps with nasty build quality, outdated styling and awful lot of steel. A breakthrough was finally made by Ford Taurus in 1986 model year. When it was unveiled to the world, I remember its classy appearance was a sensation – at least it changed our view on American cars. Taurus followed the edge-leading European cars like Audi 100 to employ an aerodynamic efficient body with Cd 0.32 only (its sister car Mercury Sable was even good for 0.29). Smooth profile, large glass area, flushed windows, slim pillars and grilleless fascia made it look futuristic, no wonder it was featured in the movie RoboCop as the future police car.

Mechanical-wise, it wasn't the most advanced car in its class, but it restored most of the ground lost to its European and Japanese rivals. For a starter, it rode on a modern front-drive platform with all independent MacPherson strut suspensions. The push-rod 3.0-liter V6 might be a little down on power compare with the SOHC engines from rivals, but 140 horsepower and 160 lbft wasn't bad for a mid-size family car, considering an European Ford Granada Scorpio made only 10 more horsepower. A decent 4-speed automatic transmission resulted in a decent performance. A more torquey 3.8-liter ohv V6 (140hp / 215 lbft) improved performance further later on. Unlike previous American cars, the Taurus wasn't too big, but its spacious interior could seat up to 6 people. Build quality was much improved, especially since the mid-life makeover in 1992.

Sales peaked at 1992 with 410,000 units sold. From 1992 to 1995, the Taurus was America's best selling car, taking back the crown from Honda Accord.

Taurus SHO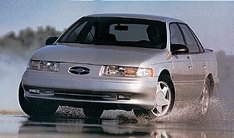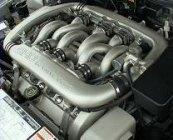 Since the musclecar era, American car makers had never really built performance sedans. In the mid-1980s, they began developing performance sedans again. Instead of big block V8s, this time they pursued power from high-tech small capacity engines – Chrysler introduced a turbocharged 2.2-liter four-pot engine, while GM developed a 2.3-liter 16-valve Quad-4. However, neither of them could match Ford Taurus SHO.

The SHO stood for Super High Output. It employed a Yamaha-built 3.0-liter V6 with DOHC 24 valves and a variable length intake manifold system, producing a remarkable 220 horsepower at 6400 rpm and 200 lbft of torque at 4800 rpm. In 1989, that was the most sophisticated mass production V6 in the world. The Japanese motor could spin to 7300 rpm, unimaginable by any American engines. Transmission also came from Japan - Mazda's 5-speed manual gearbox MTX-4. Stiffer suspensions, all-wheel disc brakes, alloy wheels and extra aerodynamic kits completed the package.

Magazines found the SHO took less than 7 seconds to accelerate from rest to 60 mph, accompany with a top speed around 140 mph, faster than the contemporary BMW 530i and ran close to M5 which cost double the price. What a modern muscle car. Nevertheless, Taurus SHO could not match BMW for driver appeal, as its front-wheel-drive chassis suffered from torque steer under hard acceleration. Moreover, its steering and gearshift did not have the same precision as BMW. Anyway, building a world class performance sedan at affordable price was already an achievement for a Detroit car maker.