1964 Mustang convertible


Launched in 1964, the first generation Ford Mustang opened a new segment called "pony cars" which would be hugely popular in the following decade and joined by Chevrolet Camaro and Pontiac Firebird etc. The concept of pony cars was originated by Lee Iacocca, general manager of Ford. Iacocca foresaw by the mid-1960s the huge crowd of baby boomers (i.e. those born right after the WWII) would get old enough to purchase their first cars. He believed an inexpensive 2+2 sporting car would appeal most to these new customers and generate huge sales. But unlike conventional cars, he planned to offer plenty of choices of engines, transmissions, performance and luxury equipment so that people could tailor make the cars according to their needs and taste. For example, a college graduate could choose a base car with straight-6 engine, 3-speed manual gearbox and a bare interior for as little as US$2400, a young executive could choose a convertible with V8 engine, automatic transmission, fancy interior decorations and many luxurious equipment at double the price, while a performance hunger could buy a high-output V8, 4-speed manual box, limited slip differential, sports suspensions and tires at extra costs. Pony cars could therefore attract different kinds of customers and achieve huge volume. To push the price down, pony cars would sacrifice sophisticated technology and use dedicated parts as few as possible. Most components would be taken from the existing parts pool to save costs.



1965 Mustang fastback in the purest form

In this way, Ford Mustang was born in 1964 with huge success - even exceeding the expectation of Ford. It got some 22,000 orders in the first day of sale, 126,538 units by the end of the year and another 559,451 units in the next full year ! It set a record of taking only 18 months to exceed 1 million units sales. Even today it still holds the record as the biggest selling sporting car ever made, with over 2 million units sold in the first 4 and a half years. The first generation Mustang not only earned huge profit for Ford, it also earned Lee Iacocca the chairman post of Chrysler in the late 1970s.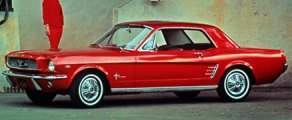 1967 Mustang hardtop


Part of its success was down to the handsome styling, especially the original design running from 1964 to 1966 model year. Later cars would get only more makeup and more muscles to deviate from its simple form. 3 body styles were offered: hardtop, convertible and fastback, each had its own character. The fastback was my favourite design, but the hardtop was by far the best selling model.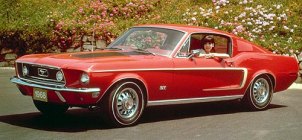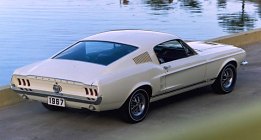 1967 Mustang fastback got longer and morre muscular, if no more beautiful.


Mechanically, the Mustang was largely based on contemporary Falcon and Fairlane sedan with conventional suspensions and FR drivetrain. Measuring 4.6 meters long and 2.74 meters in wheelbase, American saw it as a "compact car", although European would call it a large car instead. 5 mass production engines were available: 101hp 2.8-liter straight-6, 120hp 3.3-liter straight-6, 164hp 4.3-liter V8 and a pair of 4.7-liter (289cid) V8 producing 210hp or 271hp with different carburetors and tuning. Road test found the 271hp Mustang did 0-60 mph in 8.2 seconds, excellent for its price, although a top speed of 116 mph had nothing to proud of.

Shelby GT-350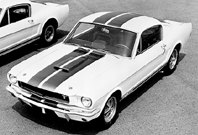 For promotional purpose, Ford asked Carroll Shelby to develop a hotter Mustang to race in SCCA Production class B. This resulted in GT-350R (the race car) and GT-350 (the road car built for homologation). Close to 3000 road cars were produced in two years.

The GT-350 was more powerful yet lighter than the regular Mustang. Based on the high-output 289 engine, it received the same tuning as the road-going GT40 supercar to release another 35 horsepower. Then the chassis was reinforced by adding a tower bar across the front suspension pickup points, the suspensions got thicker anti-roll bars and Koni adjustable shock absorbers, the front drum brakes were replaced with disc brakes, the steering got quicker ratio, the new gearbox employed aluminum case, the rear seat was ditched and the hood was converted to fiberglass to save weight. As a result, both performance and handling were greatly improved. Thanks to the work of Shelby, Mustang finally became a really sporty car !

The race car GT-350R was equally successful by winning the SCCA production car championship three times in a row from 1965 to 1967.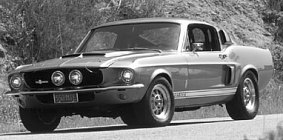 Entering musclecar era, a horsepower race became inevitable. From 1967, Shelby produced an even more powerful GT500 with 428cu (or 7.0 liters) big block V8. This engine was rated conservatively at 355 horses to cheat insurance companies. In fact, the real output should be closer to 400hp, gross power of course. Unfortunately, the luxurious-biased GT500 was a lot heavier than GT-350, cancelling most of the power gain. Moreover, its heavyweight engine put an extra 80 kg over the front axle, resulted in poorer balance and worse handling. Therefore keen drivers still prefered the lighter and more agile GT-350.