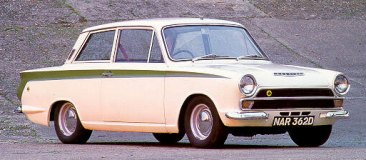 Well before the birth of Alfa Romeo Giulia GTV and BMW 02, Ford had already produced a modern sports saloon. To enter touring car racing, Ford Britain commissioned Colin Chapman's Lotus to develop and build a hot version for its Cortina family sedan. A minimum of 1000 cars would be necessary for homologation but eventually close to 3000 cars were built to satisfy demand. The resultant Lotus Cortina (or "Cortina Lotus" as preferred by Ford) won countless of glory on race tracks, such as British Touring Car Championship in 1963 and 64, European Touring Car Championship in 1965 and even some rally races. Its winning hands only went down after the arrival of Alfa Giulia GTA.

Unquestionably, the Lotus Cortina was not much better looking than the regular Cortina despite of its "go-faster" stripes in British racing green over the white body. However, the whole car was substantially modified. This started from the engine compartment where Lotus Elan's 1558cc twin-cam engine and close-ratio 4-speed gearbox located. The engine was based on Ford's Kent engine but modified with Lotus' twin-cam cross-flow cylinder head for superior breathing and combustion. The result was 105 horsepower at 5500 rpm, double the number of the regular Cortina ! As the car was compact and lightweight, it guaranteed a good turn of speed. However, both Autocar and Road & Track said its high final drive gearing blunted performance in town speed. Instead, it felt most comfortable on open road where the peaky twin-cam engine could be kept at above 4000 rpm.



Lotus also did a lot of modifications to the chassis. Here we are not talking about the usual beef up of tires, brakes, springs, dampers or lower ride height, but even the whole rear suspensions was replaced – while the lesser Cortinas employed live axle and leaf springs, the Lotus version located the live axle by a pair of trailing arms and an A-bracket, suspended it with coil springs and converted the differential housing to aluminum to reduce unsprung weight. Furthermore, the rear chassis was reinforced by extra tubular bracings around the wheel wells. To lighten the whole car, bonnet, doors and trunk lid were changed to aluminum. By moving the battery to the trunk, weight distribution was greatly improved. After all these mods were done, the car handled entirely different from the standard car. It felt much tauter and sharper. Ride quality in town suffered, but in fast bends the car could be driven very quickly. Its understeering manner could be provoked into beautiful power slide in the hands of skillful drivers. The nimble handling explained why it could beat many larger and more powerful cars on racing tracks.

Like many Lotus products, the Lotus Cortina was notorious for poor quality and reliability record. That's why when Ford renewed it to Cortina Mk 2, it took the engineering and production back to in-house. However, without much input from Lotus, the Mk2 was no where as charming as Mk1.