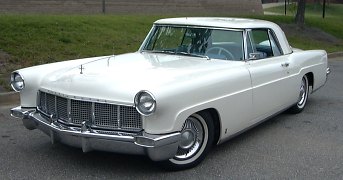 In the mid-1950s, Ford set up the Continental division in the attempt to produce the most luxurious car in the world, one could rival Rolls-Royce. The first act was this 1956 Continental Mk II. Priced at close to US$10,000, it was as expensive as Rolls-Royce and over 50% more expensive than the dearest Cadillac. In return, its customers got top rate build quality and a rarity unavailable from the mass production Lincoln and Cadillac. Famous owners included Elvis Presley, Frank Sinatra and the Shah of Iran.

The Continental Mk II was born 3 years after Bentley R-Type Continental. Incidentally, both cars were called "Continental" to reflect their high-speed cross-continental ability and both were 2-door coupes with decent rear seats. When designing the Mk II, Ford chose a European-style clean and understated theme instead of the flamboyant language of Detroit, although the sheer size and squareness couldn't hide its country of origin. Frankly speaking, the Continental Mk II looked quite plain today. Not only failed to match the beauty of Bentley, it was easily eclipsed by the 1955 Thunderbird (another car in our classic car archive). This is why it worth less money than the T-bird today.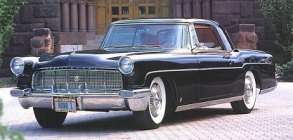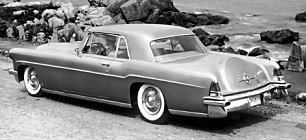 Born at a time bigger was seen as better (in the America), the best of the best Continental Mk II measured over 5.5 meters long, nearly 2 meters wide and some 3.2 meters between its axles, i.e., nonsense for a 2-door coupe. It weighed some 2.2 tons, unacceptable by today's standard and even more horrible by then. Even though a 6-liter V8 produced 285 horsepower, it could reach only 112 mph flat out and accelerate from 0-60 mph in 12 seconds. Both the hefty weight and the slow-shifting 3-speed automatic transmission were to be blamed.

The body-on-frame chassis was suspended by independent A-arm up front and conventional leaf springs and live axle at the back. Obviously, the Continental division was new, but most critical mechanical parts still came from Lincoln. However, this car was assembled mostly by hands with higher attention to quality. For example, its engine and transmission were tested on bench before installation. Some sheet metals were first assembled to ensure they fit, then disassembled and underwent painting. The exterior was painted in 4 layers and then lacquered and polished. The interior was trimmed in Scottish leather. All these things might be the minimum requirements to Rolls-Royce, but to Detroit they were what a breakthrough.

Married with plain design, weak dynamics and high price, the Continental Mk II turned out to be a commercial failure. Only 3000 cars were sold in the first two years, then Ford decided to kill the car as well as the short-lived Continental division. Since then Detroit has never tried to re-enter the top luxury segment.