Like many American cars featuring in this classic car archive, the 1961 Lincoln Continental is chosen because of its styling rather than any other reasons. American cars in the 1950-60s had few breakthroughs in technology or concept. They just grew bigger and bigger, more powerful and more powerful as United States cruised towards the world's biggest super power. However, such environment gave car designers unpreceding freedom to design the cars they could dream of. Among them, the 1961 Lincoln Continental was one of the best American luxury car designs ever made.

The Continental was designed by Ford's rising designer, Elwood Engel (who would jump to head Chrysler's design soon and responsible for other great designs like Dodge Charger and Challenger). It was originally a candidate proposal for Ford Thunderbird, but Ford eventually decided it should be used on the new Lincoln flagship. This decision was proved to be correct, as the elegant design with uncluttered "blade" side surfaces and perfect proportion suited a luxury sedan very much. It successfully prevented the flamboyant grilles, tail fins or side decorations of contemporary American luxury cars and opened a new era for tasteful design.




The interior design, also by Engel, was another masterpiece. No other American luxury car cabin felt so elegant and high-quality. The electric window switches were made of solid metal and located at the brushed metal panels on the armrests. The door panel was decorated with walnut and a lot of chromed lining. Other surfaces were trimmed with soft leather. As there were no B-pillars, the rear doors hinged at the rear edge (i.e. "suicide doors"), so the passengers could get off gracefully.

Mechanical-wise, the car was every bit conventional. A monocoque chassis was suspended by A-arms and coil springs up front, rigid axle and leaf springs at the rear. Lincoln's largest V8, displacing 430 cubic inches or 7.0 liters, was hung over the front axle and drove the rear wheels via a 3-speed automatic. 300 horsepower seemed a lot for the day, even more astonishing was the 465 pound-foot of torque, but counter balanced by the 2.3 tons kerb weight and the net result was an estimated top speed of 117 mph and 0-60 mph in 11.2 seconds. Frankly, that's not bad for a dinosaur. As expected, the Continental was no sports car in corners, but it rode supplely and quietly on highway.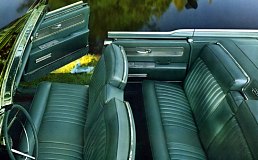 Apart from sedan, Continental was also available in convertible form with a fully electric hood. A stretched version was used by J. F. Kennedy as his president car. Unfortunately, he was killed in this car in 1963.

Production of the car ran from 1961 to 1964 with few changes - the engine was boosted to 320hp in 1963 and the wheelbase was lengthened by 3 inches to ease rear passenger access in 1964. Unfortunately, from 1965 it was changed to a flat grille which destroyed the handsome appearance. Without a good design, the Continental no longer worthed admiration.