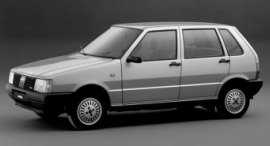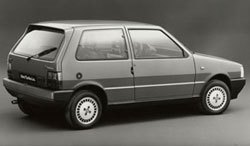 Until today, Uno is still the biggest ever selling Fiat - some 6.3 million units were produced in its Italian factories from 1983 to 1995 and another 2.5 million units in other developing countries. The total of 8.8 million units put it to the 3rd place of all-time sales chart (for single design) just behind Volkswagen Beetle (21.5 million units) and Ford Model T (15 million units). For a car born in the 1980s, such achievement is especially respectable.

The Uno could be so successful because it hit right on the requirements of car buyers. It was cheap, economical, functional, spacious, cult-looking and quite innovative in packaging. The last three elements were down to the "tall body design" by Giorgetto Giugiaro. I remember when I started reading car magazines more than 20 years ago, Uno used to be one of my favourite small cars. For sure, Peugeot 205GTi caught my heart for performance and handling, but if we talk about bread and butter versions, nothing could be more attractive than the Italian mini car. Most European motoring journalists had the same feeling. That's why they voted Uno as European Car of the Year in 1984, beating Peugeot 205. Autocar magazine described it as "The ultimate supermini" and "An ideal town car". Motor magazine described it as "Best small car of 1984". What Car magazine said it "represents the state of the art in small car design". Car magazine gave it a verdict "The most sensible car of the last ten years, and one of the most important cars of the decade."

The Uno was born as the successor of Fiat 127. Its front-wheel-drive and suspensions design (MacPheson struts up front and torsion-beam at the rear) followed the modern trend. Giugiaro's Italdesign gave it a boxy and tall profile to maximize interior space, while a higher and more upright seating position made better use of space. As a result, Uno set new standards for the amount of cabin space as well as space efficiency for small cars. The seating arrangement was flexible, offering two incline angles for rear seat back to optimize either passenger comfort or luggage space. The rear seat could also be folded easily by one action. Again, no other cars in its class could match its cleverness.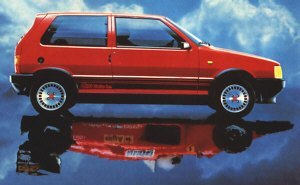 Surprisingly, the boxy body achieved a low drag coefficient of 0.34, compensated for the weaker engines at launch. In 1985, the new generation robotized production FIRE engine was launched in the Uno. Although the 999cc unit produced only 45 horsepower, it offered a useful torque of 59 lbft and became a delightful entry-level engine. The new 68hp 1299cc engine offered respectable performance and described by Autocar as "extended Uno's ability in every direction". The top of the range, hot hatch Uno Turbo i.e. ran a turbocharged version of the 1299cc engine with 105 horsepower. This was the only version clearly inferior to Peugeot 205GTi, blamed to turbo lag and mediocre handling and ride. In 1989, the whole Uno range received a facelift and the Turbo i.e. was upgraded to 1.4-liter and 118 horsepower. Fast though it was, its old problems remained.

The biggest weaknesses of Uno were build quality (especially rust problems, like many old Fiats) and ride quality. However, as sales figures proved, its strengths outweighed its weaknesses by far.