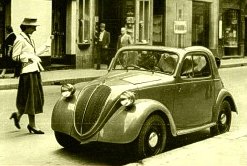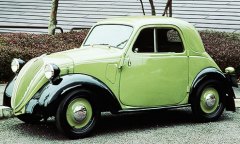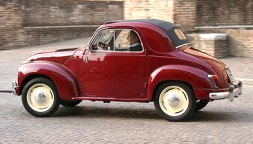 Fiat 500, or "Cinquecento" in Italian, is one of the evergreen nameplates in automotive history. Fiat used it on 4 occasions - 500 Topolino (1936-55), Nuova 500 (1957-75), Cinquecento (1991-98) and the forthcoming reborn Nuova 500 (from late 2007). Their total life span is going to exceed half a century ! A successful nameplate must have a successful beginning. The story started from the original 500…

Since Fiat's managing director Giovanni Agnelli visited Henry Ford's factory, he determined to introduce American-style mass production system to Italy. In 1922, Fiat built the largest car factory in Europe, the Lingotto plant. Production and sales stepped up. Now Agnelli wanted to expand his business to really small cars that ordinary people could afford. He commissioned a talented young engineer called Dante Giacosa to design a 2-seater small car selling for only 5000 lire.

The result was the world's smallest car then, measuring only 3.2 meters long, 1.28 meters wide and weighing only 540kg. Its small size and cute look got a nickname "Topolino" - a term translated to "little mouse" in English and was usually referred to Disney's Mickey Mouse. Unlike those motorcycle-based microcars, 500 Topolino had all the big car features – a robust chassis and body, a four-cylinder engine, 4-speed gearbox and a differential which drove the rear wheels. The wishbone front suspensions and semi-elliptic strings rear suspensions were just like any contemporary big cars, providing comfortable ride. Its engine was mounted in front of the front axle thus freed up a lot of space to stretch legs. The cabin seats 2 people only, but behind the seats was a luggage space enough to carry 50 kilograms.

The tiny 569 cc side-valve engine produced 13 horsepower, capable of pulling the car to 53 mph and returned an excellent fuel consumption of 47mpg. In 1948, the engine was upgraded to overhead valves, horsepower increased to 16.5hp while fuel consumption improved to 56mpg. The Topolino was very economical to run, but it was not as cheap to buy as originally planned. Fiat sold 511,000 Topolinos from 1936 to 1955, which was a record then, but it could hardly match the forthcoming Volkswagen Beetle and Citroen 2CV as a real "people's car". However, it paved the way for a more successful model, Nuova 500.