Suppose Fiat is to build a rival to Mercedes SL or Maserati GT today, you must think it incredible or even mad. Back in 1966, Fiat really did that with its high-end GT car, Dino.

The Dino was a joint project with Ferrari. In the mid 1950s, Enzo Ferrari's son, Alfredino, persuaded his father to develop a new quad-cam V6 to race in Formula 2. Unfortunately, Alfredino died in disease before seeing his engine winning several F2 championships. By season 1967, new FIA rules required the racing engine must share its block with at least 500 road car engines. Ferrari found itself alone impossible to produce as many cars and engines in time, so it contacted Fiat for help. Fiat agreed to build the road engine in its factory and supply to two cars, the mid-engined Ferrari Dino 206GT and the front-engined Fiat Dino, so that Ferrari could got the homologation in time. Both cars went into production in 1967. In the memory of Alfredino, both got the name "Dino". Fiat Dino was therefore the only Fiat sharing engine with Ferrari.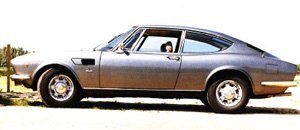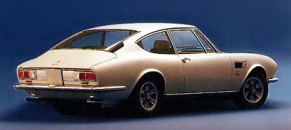 The production V6 was designed by Aurelio Lampredi, a famous engine designer who built a series of Ferrari V12s and Fiat's twin-cam four-cylinder engines. It displaced 2 liters, constructed entirely in aluminum alloy, featured 65-degree V-angle and 4 overhead camshafts operating 2 valves per cylinder. In other words, it was an engineering masterpiece of its time. It was rated at 180hp for Ferrari and 160hp for Fiat to give the prancing horse a marketing advantage. Predictably, it was short of torque but high on smoothness and revability, but the biggest merit to Fiat Dino was the marvelous noise it made, which always reminded its driver that it shared the same heart with Ferrari.

Fiat Dino had two versions - the Pininfarina-designed Spider and the Bertone-designed Coupe. The Spider was a 2-seater while the Coupe was a full 4-seater, thanks to a wheelbase stretched by 270mm. Bertone did a great job to accommodate generous room for rear passengers without making it bulky. It actually looked more graceful and beautiful than the Pininfarina Spider. Moreover, the Coupe had a much stronger chassis and a more luxuriously finished cabin. No wonder it outsold the Spider by a large margin: 6068 units versus 1583 units. Nevertheless, it was 130 kg heavier than the Spider. Autocar recorded 127mph top speed and 8.1 seconds from 0-60 mph. That's faster than Mercedes 280SL but slower than Porsche 911S and Aston Martin DB5. Obviously, a larger displacement V6 would be the answer.




In 1969, the quad-cam V6 was enlarged to 2.4 liters, accompany with a more durable but heavier cast iron block. It produced 195hp in Ferrari 246GT and 180hp in Fiat Dino, but the most crucial improvement was torque - now 159 lbft instead of 126 lbft, and the torque curve became much stronger at low rev. Although the official performance remained unchanged (partly due to increased weight), it was easier to access in everyday driving. The Fiat transmission was replaced by a more reliable ZF transmission as well.

Fiat also used this opportunity to improve the chassis. The original Dino was hurried to the market to meet FIA's deadline, therefore it was underdeveloped in many areas and resulted in poor quality and reliability. In particular, its live axle rear suspension was taken straight from Fiat's 2300 coupe thus was quite disgraceful for a grand tourer costing so much. In the 2nd Series, Fiat sorted out most problems and finally gave it a pair of semi-trailing arm independent suspensions it deserved. It also got better brakes and better cooling. As a result, the Series 2 Dino Coupe was much more enjoyable to drive no matter on highway or on twisty country roads, although the Spider remained to be handicapped by its lack of chassis rigidity.

Unsurprisingly, the Fiat Dino duo was not a commercial success due to their high price and grass-root pedigree as well as the damage caused by the Series 1. However, it was the most exotic car Fiat ever produced and that alone deserve to be remembered.