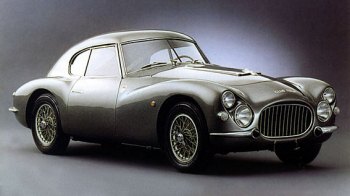 Fiat 8V was the only V8 model the Italian giant car maker ever produced. Interestingly, it was named "8V" instead of "V8" because Fiat thought the latter were a registered trademark of Ford, which was not true. The V8 engine was originally designed for a new luxury sedan intended to take Fiat to America, but after the engine had been finished, the luxury car program was cancelled – since then Fiat has never entered the luxury segment. Rather than wasting the fabulous V8, Fiat decided to use it in motor racing to boost company image. Chief engineer Dante Giacosa developed a sports car to house the V8. Eventually, 114 units of 8V were produced from 1952 to 1954, many of them were used in GT racing. Its biggest success was winning the 2-liter class of Italian GT Championship in 1954, beating Alfa Romeo and Lancia. It also won the 1955 Targa Florio and 1957 Mille Miglia.

The V8 engine displaced 1996cc. It may be small by American standard, but remember the contemporary Ferrari V12 displaced only 2.6 liters ! In order to fit into the proposed luxury sedan, it was constructed very compact and adopted a 70-degree V-angle. It produced 105 horsepower, a respectable figure for the early 1950s.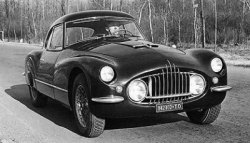 The car was compact and lightweight. Tubular steel chassis rode on all independent suspensions with lower wishbones and anti-roll bars – more advanced than contemporary Alfa and Ferrari. Another advanced feature is aerodynamics: the body was shaped in wind tunnel with the help of the aero division of Fiat. The original bodywork was made by Fiat itself from thin-gauge steel sheets and aluminum bonnet. However, many cars were dressed in bodyworks from other coachbuilders, including Ghia, Vignale, Pininfarina and Zagato. The Zagato version adopted an all-aluminum bodywork for lighter weight. Unsurprisingly, it was the most successful in motor racing. It was also the most beautiful among them. In contrast, the Fiat factory bodywork (pictured here) was not exactly a beauty.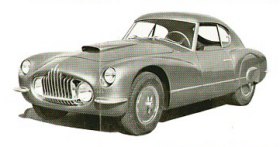 Autocar magazine road tested a later 8V in 1954, by then its engine had been upgraded to 115hp. It reached 119mph, impressive for a 2-liter car. Unfortunately, the small V8 lacked low end torque. It had to be kept above 3500rpm to squeeze out decent performance, no wonder 0-60 mph took as long as 12.6 seconds. Handling and ride were much better, thanks to the compact size and all-independent suspensions. It displayed remarkable road holding and directional stability, limited body roll and comfortable high-speed ride. These qualities made it a good high-speed sports car - provided you don't care about straight line acceleration.