Fiat 850 Spider (1965)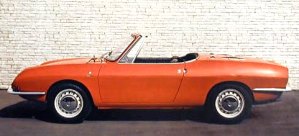 This little roadster was renowned for cheap and fun to drive. In other words, it was the Mazda MX-5 of its days. Its pretty look was penned by the young Giorgetto Giugiaro when he was serving Bertone. Bertone was also responsible for building the bodywork and making final assembly. The chassis and powertrain was derived from the contemporary 850 sedan, which in turn was derived from the influential 600. No wonder it followed the same formula: rear-mounted engine and gearbox, rear wheel-drive and all-independent suspensions with wishbones and transverse leaf spring up front, semi-trailing arms and coil springs at the rear. The rear-engined configuration left enough luggage space up front and behind the seats.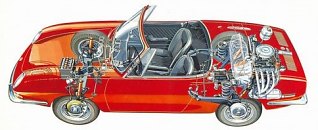 The tiny 4-cylinder engine displaced only 843cc and produced 49hp. In 1968, it was enlarged to 903cc and horsepower increased to 52hp, but it was still one of the slowest sports cars on the market. However, the Spider was gifted with an excellent handling. The RR (rear-engined, rear-drive) layout enabled a light and responsive steering. The independent suspensions benefited roadholding while the modest power never upset its grip and balance. The front disc brakes provided excellent response. Moreover, it was very economical to run, returning 40 mpg in regular driving.

Specifications
| | | |
| --- | --- | --- |
| Model | 850 Spider | 850 Sport Spider |
| Year of production | 1965-68 | 1968-73 |
| No. produced | Total: 124,660 units | Total: 124,660 units |
| Layout, Gearbox | Rear-engined, Rwd, 4M | Rear-engined, Rwd, 4M |
| Engine | Inline-4, ohv, 2v/cyl | Inline-4, ohv, 2v/cyl |
| Capacity | 843 cc | 903 cc |
| Power | 49 hp | 52 hp |
| Torque | 43 lbft | 48 lbft |
| Weight | 735 kg | 735 kg |
| Top speed | 87 mph* | 91 mph* |
| 0-60 mph | 18.2 sec* | 15.6 sec* |

* Tested by Autocar


---
Copyright© 1997-2009 by Mark Wan @
AutoZine