The 50s and 60s was the time of mass production small cars. The economy boom in Western Europe after WWII made working class increasingly wealthy. Motorcycles could no longer satisfy them, but conventional cars were still out of reach by most people. Two ingenious car engineers / designers emerged in this period found solutions – in the UK, Alexander Issigonis designed Minor and Mini and brought British motor industry a golden period; In Italy, Dante Giacosa created a string of successful small cars for Fiat – 500 Topolino, 600 and 500 Nuova and revolutionized Italian motor industry. Both men were considered as the "Father of small cars".

Having tasted initial success with the 2-seater small car Topolino, Giacosa started a more ambitious project. His next small car would seat 4 people out of roughly the same exterior dimensions and, most significantly, would be cheaper to attract more sales. The result was Fiat 600 (or "Seicento" in Italian), with 2.7 million copies sold from 1955-70, five times more than its predecessor ! That doesn't sound as great as Volkswagen Beetle, but you have to note that Fiat 600 was sold alongside its cheaper brother 500 Nuova during most time of its life, while Beetle was the sole model offered by Volkswagen.



Unsurprisingly, 600 was most famous for its space efficient packaging. To accommodate 4 passengers in a bodyshell so small, Giacosa decided to switch to rear-engined and rear-wheel-drive. The integration of engine and transaxle eliminated the need for a drive shaft, a transmission tunnel and a separate differential thus saved space, costs and eased installation. (Such benefits were exactly the same as the FF layout of Mini, just in reverse direction.) A very compact water-cooled inline-4 engine with only 633cc and 4-speed gearbox occupied very little space at the tail, so the cabin was big enough for 4 regular-size adults. The engine produced only 22hp, but it offered good torque and the car weighed only 600 kg, so performance was not much of a problem. Later on, the engine was boosted to 767cc and 29hp.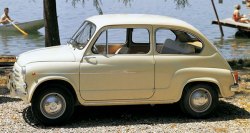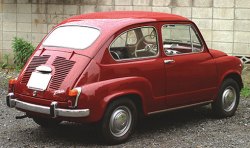 The 600 was the first Fiat to adopt monocoque chassis, which saved weight and was cheaper for mass production. However, it did not save money on suspensions. Like Topolino, both front and rear suspensions were fully independent. Moreover, to avoid the oversteering problem associated with tail-heavy cars such as Beetle, Giacosa chose a new semi-trailing arm suspensions for the rear. Read AutoZine Technical School and you will know semi-trailing arms can keep the car free of oversteer in corners, unlike Volkswagen's swinging axle suspensions. The 600 was therefore a very sophisticated small car. It offered good roadholding and a handling far exceeding its power could challenge. No wonder Abarth modified it into some very hot racing models, such as the 93hp 850TC and 112hp 1000TC !

However, the mass production 600 was not about performance. Instead, it answered the requests from the majority of working class – cheap to buy, economical to run and very practical for 4 passengers. Although production stopped in 1969, its genes continued to live on its successor Fiat 126 for the next 30 years.

600 Multipla


The original Multipla was the world's earliest mini MPV. Measuring only 3.43 meters long and 1.45 meters wide, barely larger than the 600 on which it was based, the Multipla accommodated up to 6 people ! Can you believe ?

Giacosa stunned the world again by his clever packaging. The rear-engined layout means the front end of the car was free of mechanicals. Therefore he put the 2 front seats on the top of the front wheels and freed up the space between the two axles for another two rows of seats. In this way, the car could offer 6 seats, or alternatively, 4 seats plus a large luggage space behind them. The second and third row of seats could fold flat to load cargo, making it a popular choice for small business, farmers and taxi drivers. Such versatility gave it the name "Multipla", which means multiple usage.