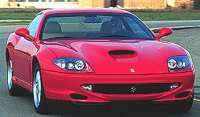 If you can accept its ugly look, you will probably loves Ferrari 550 Maranello. With relatively light-weight controls, well road manner and comfortable cabin, it may be the most user-friendly super car in today.

550M is not an all-new design, in fact it is based on the 456GT. While 456GT aims at luxurious 2+2 GT market, 550M is designed to replace the mighty Testarossa / 512TR / F512M series as the company's top-of-the-range production sports car. Actually, Ferrari shortened 456's platform and deleted the rear seats to make 550's chassis. Rear transaxle gearbox is retained with a few modifications to change the ratio and strengthen it. Suspensions and electronic damping are carried over with minor tuning. Since 456GT's V12 is already powerful at 442hp and 405lbft, Maranello needs no more than a ram-air device, variable intake manifold and variable back pressure exhaust to boost 43hp and 15lbft. All these changes sound conservative, but lower development cost really helps keeping the price under the 456GT.

550 Maranello is slightly faster than F512M - 0-60mph in only 4.6sec. Stronger bottom end torque and six speed box account for this improvement, although it weighs nearly 1700kg ! More impressive is the brakes. Traditionally, brake is Ferrari's weakness, but now 550 Maranello has probably the strongest brakes in production - even beats the Porsche 911 turbo to stop from 100mph in a recent test !
Nevertheless, 550M still lack of the ultimate thrills that the most demanding drivers require. Despite it is precise to control, it is not as sharp in handling as the limited produced F50. If it were lighter, and not so easy to drive, it would have been more thrilling.