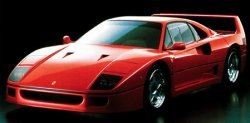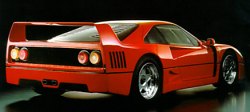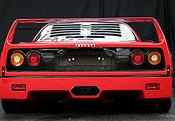 Following the footprints of 288GTO, Ferrari F40 was Maranello's second limited edition supercar. Many motoring writers recognized it as the definitive supercar of the 1980s - eclipsing Porsche 959, Lamborghini Countach QV and Ferrari's own Testarossa, thanks to its combination of sensational performance, stunning look and race car technology.

In the Frankfurt motor show of 1985, Porsche caught the attention of the world by demonstrating a prototype called 959. That car was powered by a 450hp twin-turbo flat-six engine, some 50 horses more than Ferrari's top supercar, 288GTO. With a top speed of 197 mph, it beat GTO by almost 10 mph to be the world's fastest car ! Moreover, the 959 got a sophisticated electronic-controlled 4-wheel-drive system and an advanced suspension with adjustable damping and ride height. GTO suddenly appeared to be second rate.

To clinch back the world's top supercar title, Ferrari's general manager Giovanni Razelli commissioned the development of an even faster car. "The fastest road-going sports car has to be a Ferrari," he said. That car was later known as F40. The F40 was so named to celebrate the 40 years anniversary of Ferrari as a road car manufacturer - the first Ferrari road car, the Ferrari 125, was born in 1947. Enzo Ferrari unveiled the F40 at Maranello in June 1987, by then he was 89 years old. The legendary old man died next year, so F40 was the last car he presented to the world.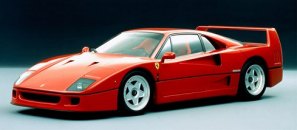 Technically, the F40 was developed from the experimental GTO Evoluzione, a racing version of GTO that was canned after the demise of Group B. While its tubular spaceframe chassis was not a big departure from the GTO's, its bodywork was entirely made of F1-style lightweight composite materials such as carbon-fiber, Kevlar and Nomex, a step up from its partially composite predecessor. The chassis was reinforced by composites floor, roof and door sills to give 20 percent higher rigidity. Ferrari treated it like a race car, eliminating weight as far as possible. The rear screen and side windows were made of lightweight Plexiglass. The windows had no winding mechanism but a horizontal sliding section for opening, very much like a race car. The cabin was purely spartan, without any air conditioning, radio, glovebox, leather trim, carpets and sound-deadening materials, not even door panels and door handles ! the doors were exposed hollow and they were closed by pulling a cable, unbelievable. Unfinished carbon-fiber surfaces were exposed everywhere, only the dashboard and transmission tunnel were covered with a thin sheet of cloth. Comparatively, the leather-trimmed 288GTO appeared like a luxury car. In the F40, what you got were a pair of Kevlar-backed racing buckets (with no adjustment), a lightweight Momo steering wheel and drilled aluminum pedals. No modern road-going Ferraris were so close to race cars.

F40 had none of the Porsche's sophisticated technologies. It was built in classic Ferrari style and therefore closer to formula one race cars. A mid-engined layout guaranteed a weight distribution close to 50:50. Power went to the rear wheels and transfer to the road through massive Pirelli tires. Classic double-wishbone suspension linked to Koni adjustable shock absorbers each corner. To save further weight, its steering and brakes were unassisted while ABS was not offered. This saved the need of vacuum pumps and complicated hydraulic systems. The lightweight, the perfect balance and the low center of gravity set it apart from the Porsche rival.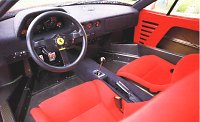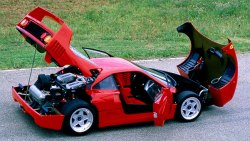 The whole car weighed as little as 1100 kg in dry. This ensure stunning performance from the twin-turbo 32-valve V8. The engine was derived directly from the GTO's unit. With a slight increment of capacity (from 2855 to 2936cc) and higher boost pressure (from 0.8 to 1.1 bar), it produced 478 horsepower at 7000 rpm – that's 20 percent up from the GTO ! Maximum torque rose by similar rate to 425 lbft. As in GTO, the IHI turbochargers were cooled by a pair of Behr intercoolers. Electronic fuel injection and ignition were provided by Weber-Marelli as in Ferrari's F1 cars.

The body was again designed by Pininfarina studio under the watch of Leonardo Fioravanti. It looked every bit a race car, with massive air dam and skirts, widened fenders, rear diffusers and a lot of NACA ducts and ventilation holes here and there. Most spectacular was the high-mounted rear spoiler that integrated perfectly with the tail. It was the trademark of F40. Pininfarina successfully combined a stunning look and good aerodynamics in one package. The body of F40 was primarily shaped to optimize downforce and drag. Its Cd was 0.34, better than Testarossa's 0.36, if not as good as Porsche 959's 0.31, but it generated real downforce at speed and that was crucial to its superior track performance.

When Ferrari unveiled the F40 at Frankfurt motor show in 1987, it caused a stir in the crowd. The headline was 201 mph top speed, the first time a road car breaking the magic 200 mph mark ! (This was later proved by the test of Quattroruote magazine) Although the show was taken place in Germany, everybody was delighted to see Ferrari retaking the lead from Porsche. Its exotic look, its classic mid-engined 2-seater configuration and its prancing-horse badge were all people expected for the world's top supercar. Another headline was its price - at £163,000, it cost twice the price of the contemporary Testarossa, and it continued inflating to well over £200,000 when the car was finally delivered in 1988. Ferrari originally planned to build 400 cars, but reaction was so hot that eventually 1311 units were built in the next 4 years. It became the most commercially successful supercar in history.



On the road, the F40 delivered one of the most exciting driving experience in automotive history. There were plenty of subsequent supercars ran as fast or even faster, but few could deliver the same sensation of speed. McLaren F1 ? perhaps. Bugatti Veyron or Koenigsegg CCR ? definitely not. At first, you might not believe this because the F40's twin-turbo V8 started easily and idled smoothly. At any rev below 3000rpm, it felt rather normal or even civilized. However, once you got pass 3000rpm, the turbochargers woke up and in an instant the rev counter needle surged to 3500rpm, by then it really took off. The tremendous g-force, the uninsulated angry roar of the V8 accompanied with the direct communication from steering and suspensions honestly feedback the sensation of speed. The explosive acceleration took rev needle quickly towards the 7750rpm redline. Upshift, a shunt followed by another wave of breathtaking acceleration. This car felt so light and accelerative ! Unlike today's supercars, messages regarding speed transmitted to the cabin without the slightest filtering, thus the F40 always felt as fast as it went.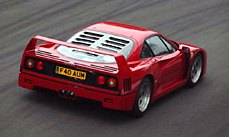 How many seconds did it take to do 0-60 ? the answer depends very much on the launch technique, the grip level of the test ground as well as a little bit luck. Because the F40 was so powerful yet so light, at a time without traction control its rear wheels were all too easy to spin. That is why Quattroruote and AMS magazine recorded around 4.5 seconds to accelerate from 0-60 mph. However, if you can get the launch right as British magazine Fast Lane did, you will need only 3.9 seconds to go from 0-60mph and 7.8 seconds to 100mph. That was a mind-blowing performance even by today's standard ! compare with the best time recorded for Porsche 959, the F40 took 0.2 seconds longer from 0-60. This was mostly thanks to the superior initial traction offered by the 4-wheel-drive Porsche. However, once the Ferrari had overcome wheel spin, it clawed back the lost ground quickly and by 100mph it was already 0.5 seconds ahead ! Until the arrival of McLaren F1, Ferrari F40 was easily the most accelerative road car in the world. Not even Jaguar XJ220 and Bugatti EB110 could match it.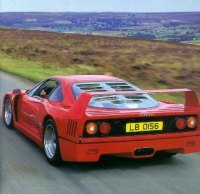 Nevertheless, F40 was not all about straight line speed. Give it a decent road, it would beat any cars of its time by a large margin. This car had poise, balance and stunning roadholding thanks to the combination of lightweight, grippy tires and strong downforce. This allowed it to corner at great speed. In 1988, Autocar took the F40 and 959 to Ferrari's Fiorano track for comparison. The Ferrari was found between 6 and 10 seconds faster a lap ! At the end of the straight, it hit 160mph while 959 did only 138mph.

However, what made the F40 still so special today was not speed but the involving feel it offered. Its unassisted steering was so direct and meaty, but never too heavy. Before the turbochargers kick in, the car runs in understeer mode. So what you need is to keep the rev above 3000rpm and then its handling comes alive. Feed power as it corners, its attitude shifts progressively from understeer to oversteer and then full power slide. The wonderful thing is, the precision and feel of the throttle and steering allows you to control the power slide as finely as you like. This made the drive so involving and so memorable to motoring journalists.

No wonder Ferrari F40 has a special status in automotive history. Its greatness exceeded that of the GTO and is still unmatchable by its successor F50 and Enzo. Enzo Ferrari must be proud to be able to unveil it in his very last days, because nothing else could be more suitable to conclude his life-time achievement.