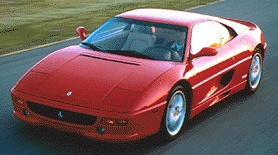 Ferrari usually enjoys a superior status in the eyes of car enthusiasts. However, sometimes it can go wrong, too. In the early 1990s, Ferrari's entry-level sports car 348tb faced strong challenge from Honda NSX and Porsche 993. In a triple test conducted by Autocar magazine in March 1994, the Ferrari was beaten by both rivals even though it cost the most money. The 348tb was fast and beautiful – like a "Mini-Testarossa", but it had a lot of weaknesses as well, for example, harsh ride, nervous handling and less than perfect build quality. When Luca di Montezemolo became Ferrari's managing director, declining sales, deteriorating brand image and lack of motivation were the problems he faced. He was shocked that the 348 he drove was so poor. Even more surprising was that the engineers at Maranello did not realize the problems. Montezemolo determined to revitalize the corporate culture and product lines of Ferrari. The first fruit was F355.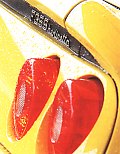 F355 was not exactly a clean-sheet design. As shown by its familiar shape, it was modified from 348tb. Dictated by the hardpoints, Pininfarina's work was limited to restyled details, such as bumpers, fog lamps, taillights, skirts, spoilers, intakes and engine lid. It did freshen up the styling, but it lost somewhat the purity of 348tb. Sadly, F355 discarded the most beautiful feature of 348tb: the Testarossa-style "cheese-slicer" side grilles.

Most body panels of the entry-level Ferrari were made of steel, with the exception of the carbon-fiber engine lid and undertray. The flat undertray was introduced to reduce aerodynamic lift and equalize downforce on both axles. The chassis was basically the same as 348tb, which means a combination of semi-monocoque and tubular engine frame. However, the chassis was stiffened by 30 percent, the tracks were widened and the suspensions were retuned to improve handling. Electronic adaptive damping was added to improve ride quality. All corners rode on 18-inch 5-spoke wheels made of lightweight magnesium.


The engine was also a development from 348tb. This was a 90-degree flat-crank V8 mounted amidship and linked to a transverse gearbox. With 2mm increase in stroke, capacity increased from 3405cc to 3496cc. Individual throttle butterflies improved throttle response. The new engine had two significant changes: first, it adopted 5 valves per cylinder, with 3 intakes and 2 exhaust valves to improve breathing efficiency. The center intake valve was set to open 10 degrees (phase angle) later than the side ones, thus created swirl to improve air-fuel mixing hence power and emission. Second, the engine employed titanium connecting rods to reduce rotating inertia thus raised rev and top-end power. The result was a record-breaking specific output at 108.7 hp per liter, up from 348's 88.1 hp/litre. In total, there were 380 horses running under the engine lid at sky-high 8,250 rpm, plus a not-so-remarkable 268 lbft of torque occurring at 6,000 rpm. That made the F355 some 100 horsepower more than the contemporary NSX and Porsche 993 Carrera !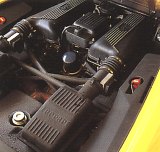 On the road, the F355 was very different from 348. While 348 was nervous at the limit, the F355 was highly controllable. The chassis was well balanced and communicative. Power oversteer could be induced and caught easily. There was plenty of grip and the brakes were excellent. There was fine feel in the steering, although it was light and rather slow. The car was also rather easy to live with – which was a new requirement set by Montezemolo. Its clutch pedal was much lighter than traditional Ferraris. Its 6-speed gearbox was slicker and its close ratios made good use of the limited torque in regular driving. Its softened springs and electronic dampers offered exceptional bump absorption for a mid-engined supercar. Moreover, the F1 semi-automatic transmission added later on reduced driving effort, especially in city, without slowing performance. Most customers chose that option.


Many regarded F355 as the best Ferrari chassis since 206 / 246GT. Even more people fell addicted in its 40-valve V8. Its racy scream and its ability to rev to 8 and a half thousand rpm brought the most thrilling experience to the drivers. The performance level it offered was more than what we expected for an "entry-level" Ferrari – 183 mph top speed, 0-60 mph in 4.6 seconds and 0-100mph in 10.6 seconds actually matched the contemporary Ferrari flagship model, 550 Maranello.

F355 was definitely one of the all-time greats of Ferrari. From 1994 to 1999, some 11,000 units were sold without any major changes. Again a great success for Maranello.