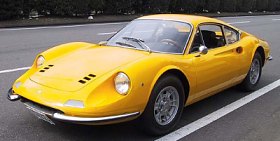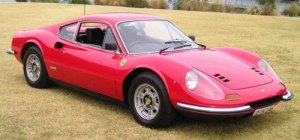 There was a story behind the name "Dino" and the V6 engine. Alfredino Ferrari, the only son of Enzo Ferrari, suggested his father to develop a V6 racing engine for Formula 2 in the early 60s. Although always in favour of V12, Enzo approved his beloved son's project and employed famed engineer Vittorio Jano to design this engine. The result was a very compact, 1600cc, quad-cam V6 which eventually won several F2 championship titles. However, before this happened, the ill-fated young Alfredino had already died in kidney disease. It took Enzo Ferrari several years to fully recover from heartbreak. For the memory of his son, he put the V6 into a mid-engined sports car and badged it "Dino", which is the short-write of his son's name.

Of course, the original racing V6 would never have been appropriate for road use. Therefore, Aurelio Lampredi (another famous engineer who also designed a series of V12 for Ferrari) modified the engine to 2.0 litres, producing an amazing 180 horsepower ! Logically, this car was named "206GT", which implied its engine capacity and number of cylinders. This engine was actually produced by Fiat and shared with Fiat Dino (also called Dino because of the engine), not because it would be cheaper, but because Ferrari needed the additional volume to meet the minimum 500 units required by FIA homologation.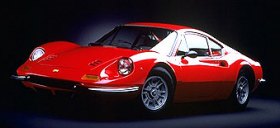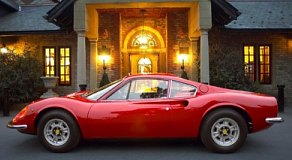 Naturally, the little Dino was not as fast as other V12 Ferraris, but it had a magnificent chassis, with beautiful balance, responsive steering and easily modulated throttle steer. It was generally regarded as the best Ferrari chassis until the arrival of F355. Why could it be so good ? Firstly, its nimble size and lightweight helped improving handling. Secondly, it was Ferrari's first road-going mid-engined sports car (after the 250LM race car). The mid-engined construction accompanied with the compact and transversely mounted engine perfectised the weight distribution. Thirdly, it adopted independent double-wishbones suspensions for all wheels.

Like all beautiful Ferraris, the Dino was designed by Pininfarina. The chief designer was Leonardo Fioravanti. He gave the mid-engined sports car a very sexy, low shoulder, coke-bottle body which departed from the design theme of any previous Ferraris. This kick started the "exotic era" of Ferrari design, which would influence the following 308 / 328 GTB, 512 BB, 288 GTO and Testarossa. The bodywork was produced by Scaglietti in aluminum.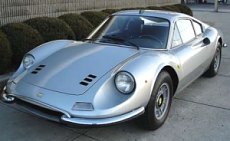 After just 2 years of service, 206GT was replaced by 246GT. As suggested by its name, the newer car had its V6 enlarged to 2.4 litres. Power rose to 195 hp while torque increased even more noticeably. Having a stronger engine, Ferrari abandoned the aluminium body panels and in favour of conventional steel bodywork, thus lowered the production cost and provided better build quality. Although weight increment was inevitable, the increased power cope with ease.

206GT and 246GT broke the production record in Maranello. More than 3,700 cars were made between 1969 and 74, which was by far more than any previous models. Since then, Ferrari started its mainstream model line-up, followers included 308, 328, 348, F355, 360M and today's F430. These cars strengthened Ferrari's business a lot.