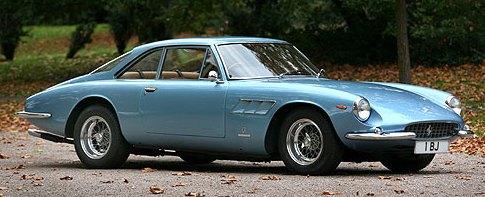 When I write these classic Ferrari pages, I have a feeling that every Ferrari was unusual. Still, we have to pick carefully the most distinctive ones to include in this classic car archive. The 500 Superfast is picked because it represented the best luxurious GT in Ferrari's lineup – and probably even in the world - during the 60s. Its premium status was not matched by other Ferraris until today.

From the mid 1950s to 1960s, Ferrari made a string of luxurious grand touring cars primarily aimed at the US market. They were the "America" and "Superamerica" line. These models stood at the top of the price chart and offered the best luxury and comfort to please the wealthy customers who would otherwise bought Bentleys or Aston Martins. However, the Ferraris were always sportier and faster than their competitors, while their bespoke nature and rarity should attract the most demanding customers.

Among these Ferraris, the 500 Superfast built from 1964 to 66 was definitely best of the best. Priced at US$18,000 when new, it was the most expensive car in the world, and twice the price of Ferrari's production 330GT. Naturally, it was assembled with the best materials, fit and finish. However, what separated the 500 Superfast from its predecessors 410 and 400 Superamerica were power and performance. It was equipped with Ferrari's biggest ever engine – Tipo 208 V12 with 88mm bore and 68mm stroke to enable a full 5-litre. It produced 400 horsepower at 6500 rpm, a figure unsurpassed by any other Ferraris for the next 20 years !

Some experts pointed out the horsepower rating might be overrated, so it might not produce the claimed 174 mph (280 km/h) top speed and 0-60 mph in 6 seconds. However, it was still easily the fastest grand tourer of the day.

The 500 Superfast was built on a chassis modified from 330GT, sharing similar suspensions, steering and gearbox. To handle its 1400 kg dry weight, it got Dunlop discs brakes to enhance stopping power. Predictably, the heavy and very long body and comfort-biased suspensions were designed for high-speed cross country driving rather than serious handling.

Ferrari produced only 37 units of this car for its premium customers including the Prince of Holland and Shah of Iran. It was the company's last bespoke car that built to orders. So it should be very valuable today? Not really. The Superfast had a couple of disadvantages preventing it from being the most desirable Ferrari to collectors: first, it did not have any racing pedigree; second, its styling was not very memorable by the standard of Ferrari-Pininfarina. In fact, most people found it was not as handsome as its slower and cheaper predecessor, 400 Superamerica.