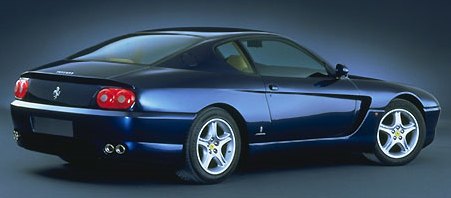 When this Ferrari 2+2 grand tourer launched in 1992, it caused quite a sensation to me. No other Ferrari 4-seater had ever been so beautiful. Everybody knows it is very difficult to design a V12-powered front-engined 4-seater, because the requirement for a big engine compartment and rear passenger headroom always work against a sleek body shape. However, Pininfarina's chief designer Lorenzo Ramaciotti successfully overcame these contradicting requirements and gave the 456GT an unforgettable shape. It looks good from all angles, especially from the sides and the back. Its tail, combining the classical theme of Daytona and modern surfacing technique, is probably the most elegant tail I have ever seen. Ramaciotti went on to design Peugeot 406 Coupe, another design classic. Sadly, 456GT was the last beautiful Ferrari presented by Ramaciotti and Pininfarina. Until now the Italian design house has yet to repeat the success of 456GT.

The significance of 456GT was not limited to styling. It also represented a new era for Ferrari in terms of build quality and user friendliness. Previous Ferraris were often unreliable and troubled by design flaws or quality glitches. Not anymore in 456GT. Its tubular steel spaceframe chassis and bonded aluminum bodywork was robust. Fit and finish took a quantum leap as Ferrari's new managing director Luca di Montezemolo determined to wash out the poor quality image of Maranello's products. He even introduced robots in production lines, not to raise productivity but to ensure consistent build quality.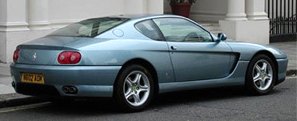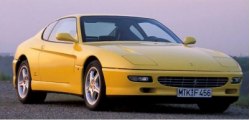 The cabin of 456GT was another triumph – never before a Ferrari cabin was so well made and so tastefully designed. 5 classical gauges in the middle, trademark steel ball gear knob, chromed center console and switchgears and top grade leather trim throughout the cabin. Big electric leather seats looked delicious and felt comfy. A steering wheel with reach and rack adjustment enabled an excellent driving position - which was not always the case for Ferrari. The two rear seats were primarily designed for children or luggage, but they also did a good job to accommodate average-size adults for short journeys. The boot could swallow 5 custom-made leather cases, enough for a weekend's luggage. 456GT was a perfect grand tourer.

Powering the car was Ferrari's all-new 65º V12. It replaced the long-serving boxer engine of BB and Testarossa series and was designed for use in the new generation front-engined Ferraris, i.e., 456GT and 550 Maranello. By the way, the latter was a short-wheelbase and 2-seater derivative of 456GT. The new V12 was very compact although its capacity increased to 5474cc, or 456cc per cylinder. It employed 4 camshafts and 48 valves, but the tuning was not as aggressive as 550 Maranello (which got variable resonance intake system and 43hp extra horsepower). That said, it produced 442 horsepower and 405 lbft of torque, easily eclipsing the last boxer engine.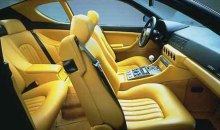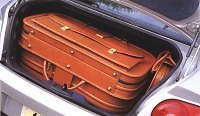 With a top speed of 186 mph and 0-60 mph in only 5.1 seconds, 456GT was easily the world's fastest 2+2 GT then. It's closest rival was BMW 850CSi, whose similar engine (5.6-liter V12 but still 2 valves per cylinder) produced 380 hp and it took half a second longer to go from 0-60 mph. Unsurprisingly, the Ferrari V12 was a gem – tractable, smooth and addictively willing to rev. The only problem was a civilized voice, but then for a luxury grand tourer this was not as critical as in the case of 550 Maranello.

The engine was mated to a close-ratio 6-speed manual gearbox through a long linkage, as the gearbox was mounted at the rear axle (so-called "Transaxle") in order to provide a 50:50 weight distribution. Although the linkage was long, gearchange was precise. A light clutch and an optional 4-speed automatic gearbox would satisfy those demanding more driving ease, especially American customers.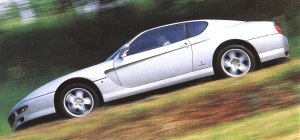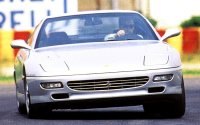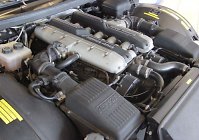 In corners, the Ferrari's nimble handling belies its size and its 1.8-ton weight. Its suspensions were fitted with a 3-mode electronic adaptive damping to smooth out road surfaces yet providing excellent body control. It also provided self-leveling function to deal with different rear seat and luggage load. The quick and well-weighted steering was assisted by ZF Servotronic with variable ratio and variable assistance. Though not as feelsome as traditional Ferraris with unassisted steering, it eased the driving effort and allowed the driver to place the big Ferrari grand tourer accurately on the road quite easily. The ABS brakes were reassuringly powerful and fade-free, a big improvement from 512TR.

Unquestionably, 456GT was the world's greatest 4-seater grand tourer of its day, and one we will miss forever.



456M GT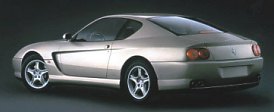 Throughout its 11 years life, 456GT received only one revision. That was in 1998. The car was renamed to 456M GT, where M stands for Modificato.

The modifications were actually very minor – the V12 received a revised firing order to improve sound quality but no more power was extracted. The bonnet was reshaped rounder and was converted to carbon fiber composite instead of aluminum. The restyled grille, front and rear bumpers delivered a softer look. The cabin got new seats. That's all.

Ferrari spent little effort to improve the car because it was never challenged until near the end of its life cycle. The aforementioned BMW 850CSi was short lived. Aston Martin Vantage was too brutal and basically a 2-seater. Bentley Continental GT and Mercedes C55 / C65 AMG finally gave it some real challenges in its very last years (around 2002 to 2003), but then they were never deemed to be as sporting in heart as the Ferrari. When it retired in 2003, 456GT was still on the top of its class.