In our classic car archive, Ferrari Daytona, Testarossa, Lamborghini Miura, Countach, Jaguar E-type and many many other cars were described as one of the most beautiful cars ever made. However, in my opinion the most beautiful among them is this one - Ferrari 308GTB. This view is shared with Giorgetto Giugiaro. Once talked in the public, the great Italian design maestro described 308GTB as "the most perfect car I've ever seen".




In fact, 308GTB was not designed by himself but by his arch-rival, Leonardo Fioravanti of Pininfarina studio. Fioravanti, also had Dino, Daytona and 365 / 512BB under his name, squeezed out all his brainpower to draw his last Ferrari. In many ways, 308GTB looked alike Dino. Not only because of similar size and market positioning, but they had a similar philosophy behind their designs. Both cars had an extremely low waist line, a slim nose, a sleek overall shape, a large and fast windscreen, a flat engine lid and a pair of flying buttresses that emphasized the mid-engined layout. However, the design of 308 was far more brilliant. Its pop-up headlights enhanced the sleekness at the nose further. Its rich details such as the bonnet grilles and side air ducts matched the overall design very well. The angle of its windscreen was just perfect, which was as fast as what an exotic sports car should be but without fast to the extent that compromising visibility. Its side windows were large compare with the body, not only provided good visibility but also delivered a lightweight feeling.




Not matter how brilliant the details were, the most beautiful was still its overall shape. Possibly inspired by woman body, its waves-shape side profile could probably attract more sights than beautiful women. No wonder it was named as the sexiest car in the world.

Besides beauty, 308GTB was a good car to own and to drive. Its transverse V8 had sufficient power and torque, accompanied with a smooth gearchange. Maximum power of 255 hp could push the car to 154 mph, and 0-60 mph in a remarkable 6.5 sec - all these came from a normally-aspirated V8 displacing 3 liters only, though lightweight also played an important role.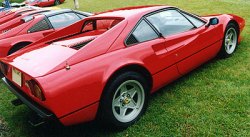 The transversely mounted, quad-cam 90-degree V8 was shared with sister car 308GT4. The same goes for the chassis, although its wheelbase was shortened to 2340mm. The central monocoque and tubular frame structure was enclosed with a lightweight glass-fiber body built by Scaglietti. Handling was good, if not as remarkable as the styling and the engine but still up to everyone's expectation for a Ferrari. The car was agile and well balanced. Ride was firm, because the low body did not permit much suspension travel. At low speed on less than smooth surfaces it could be bumpy. However, once into mid-range speed the ride improved markedly. At high speed it gave great confidence, with no tendency to pitch or float.

The cabin was very habitable: comfortable seats, good visibility, easy access and well-equipped. In addition to the boot locating behind the engine, practicality should be exceptional compare with other mid-engined sports cars. 308GTB was also relatively affordable, costing the same money as fast 911s and substantially cheaper than Ferrari's flagship 512BB. Moreover, it had none of the uncompromising character of these cars. Therefore it was usually seen as the best entrance to supercar ownership.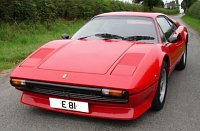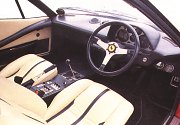 Evolutions

Steel body

Early 308s, mostly produced in the first year (1975), had the aforementioned glass-fiber body. It was the lightest and the fastest of all 308s. Unfortunately, since the second model year Ferrari changed it to conventional steel bodywork – something like the aluminum body 206GT evolved to steel body 246GT. There was no official explanation. Some said Ferrari did that because many customers perceived plastic body as cheap, but most believed it was because Ferrari knew steel was actually cheaper for mass production, ridiculously.



308GTS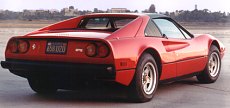 In 1978, Ferrari introduced the Spider version, or 308GTS. Instead of a real convertible, it was actually a Targa. Once the black roof panel was removed, the driver and the beautiful girl sitting beside could enjoy admiring sights from pedestrians and other motorists, which is always the point for driving Ferraris. Besides, the Targa roof almost unaltered the beautiful shape of GTB, no wonder the GTS would outsold GTB in the remaining years.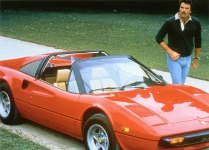 << 308GTS featured in Tom Selleck's 1980s TV series, Magnum PI.



308GTBi

From 1980, owing to stricter emission regulations effective in Europe, the V8 engine was detuned and had its Webber carburetors replaced with Bosch K-jetronic mechanical fuel injection. As a result, max power dropped from 255hp to 214hp, while Federal version was even worse at 205hp. The injected cars also lost the beautiful induction noise of the carbureted cars. 308GTBi was therefore the least favourable evolution.

308GTB Quattrovalvole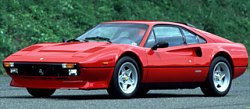 Fortunately, in 1982 the V8 engine was re-engineered to adopt 4 valves per cylinder, hence the name 308GTB Quattrovalvole. Power rose back to 240hp. The car can be distinguished from an extended air dam and additional horizontal grille over the bonnet, very much like the forthcoming 288GTO.



208GTB and 208GTB Turbo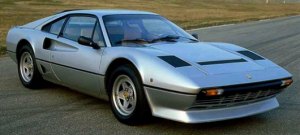 << 208GTB Turbo, note the additional NACA cooling ducts



Before the harmonization of European Union, Italian government applied heavy taxation to cars over 2000cc. That's why Lamborghini had Urraco P200, Maserati had Merak 2000GT and Ferrari had 208GTB for sale in their home market. 208GTB was basically the same as 308GTB except the engine – the V8 had its bore reduced from 81mm to 66.8mm, taking the total capacity to 1991cc and maximum output to 155hp.

One can easily see that it was not powerful enough to worth the prancing horse badge. Therefore after a couple of years Ferrari decided to add a KKK turbocharger to the V8 and restored its power to 220hp. This became 208GTB Turbo. As both cars were bounded to the Italian market, few people talked about them.

328GTB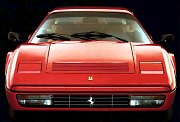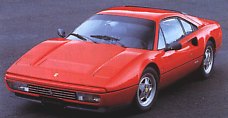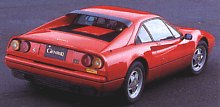 After running for 10 years, 308GTB was finally replaced by 328GTB. However, there was no secret that 328GTB was still a small evolution from 308GTB. The major change, as indicated by its name, was a larger 3.2-liter engine. With Quattrovalvole cylinder heads, slightly larger bore and stroke, increased compression ratio and higher valve lift, the 328 engine was much more powerful. It produced a consistent 270 horsepower throughout its life. The car could accelerate from 0-60 mph in merely 5.5 seconds, a full second quicker than 308 !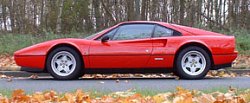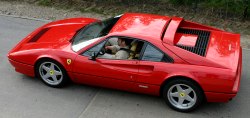 Externally, 328 had the beautiful body further refined by new front and rear bumper, though its nose did not look as slim as 308. Build quality was much improved, hinting Ferrari would push its V8 line upmarket and leave the 911 territory.

GTB Turbo




Again, for Italian market a 2.0-litre turbocharged version of the 328GTB was sold. The car was named simply GTB Turbo or GTS Turbo without the capacity-cylinder number to avoid confusing with the earlier, 308-based 208GTB Turbo. The small-capacity V8 was basically the same, except that it employed a higher boost IHI turbocharger to deliver 254 horsepower and similar performance to 328GTB.

End of Road

The 308 / 328 series was eventually replaced by 348 in 1989. Some 13,000 units of 308 (excluding GT4) and 208 were built, plus another 8500 units of 328 and Turbo. The family was easily the best selling model in the history of Ferrari.



308GTB - perfect proportion featured in 1986 CAR magazine
It was this picture that attracted me to be one of its fans