Duesenberg J / SJ (1929)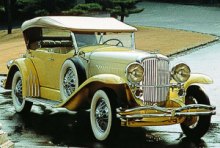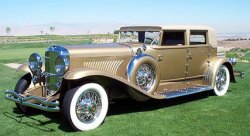 American car maker Duesenberg was founded by the Fred and August Duesenberg brothers early last century. Like Bentley, Duesenberg had a lot of victories in motor racing, such as Indianapolis 500, but its road cars had little sales success. In 1925, the financially troubled company was sold to Errett Lobban Cord's Auburn Motor Company. This changed the fate of Duesenberg…

Cord wanted Duesenberg to build the best luxurious car in the world, not only beating local rivals Cadillac and Packard, but also Rolls-Royce, Bugatti and Hispano-Suiza. The car was engineered by Fred Duesenberg and clothed in a body gracefully styled by Gordon Buehrig. The result was model J.




Impressively, model J was powered by a 6.9-litre (420cu) straight-8 employing double overhead camshafts and 4 valves per cylinder – a technology Fred Duesenberg learned from motor racing. It produced an astonishing 265 horsepower and enabled the 2-ton-plus vehicle to reach 116 mph. If that was not enough, customer can order the supercharged model SJ, which was good for 320 horsepower and 130 mph ! at the time, it was the most powerful car in the world, even surpassing the mighty Bugatti Royale !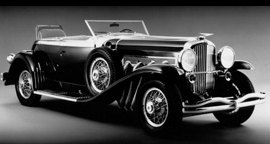 Duesenberg J and SJ were regarded as one of the best cars of that period. They were also one of the most expensive – the chassis cost US$8,500, the coachbuild bodywork cost similar amount. For comparison, a regular car cost only US$500. Its customers include famous actor Clark Gable ("Gone with the Wind") and the Duke of Windsor.

However, the great depression in the 1930s led to the collapse of Cord's empire. Duesenberg together with its ultra-luxury cars also went into history.

Specifications
| | | |
| --- | --- | --- |
| Model | Duesenberg J | Duesenberg SJ |
| Year of production | 1929-37 | 1932-37 |
| No. produced | 444 units | 36 units |
| Layout, Gearbox | Front-engined, Rwd, 3M | Front-engined, Rwd, 3M |
| Engine | Inline-8, dohc, 4v/cyl | Inline-8, dohc, 4v/cyl, supercharger |
| Capacity | 6884 cc | 6884 cc |
| Power | 265 hp | 320 hp |
| Torque | N/A | N/A |
| Weight | 2300 kg | 2300 kg |
| Top speed | 116 mph | 130 mph |
| 0-60 mph | N/A | N/A |
---
Copyright© 1997-2009 by Mark Wan @
AutoZine