Delahaye 135 and 165 (1936)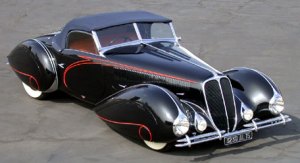 135 was available in many body styles, shown here is the most beautiful - 135M roadster coachbuilt by

Figoni & Falaschi


Compare with another French marque Bugatti, Delahaye was not very famous. Although it was one of the world's earliest car makers (started in 1896), it made mostly lorries and fire-engines until the mid-1930s, then it decided to enter sports car market. From 1933 to the eve of WWII was the golden years of Delahaye as a sports car manufacturer. It produced some of the world's most beautiful cars, most notably the 135 and 165 described here, and had some success in motor-racing.

Delahaye 135 series was the first and the most successful sports car made by the company. Some 2000 cars were built in nearly 2 decades. In terms of technology, it was no match with contemporary Bugatti and Alfa Romeo. In fact, it was quite conservative. Powered by a 3.6-litre straight-6 engine without any supercharger, the car could not reach 100 mph. So what made it a classic? it was the beautiful styling from coachbuilder Figoni & Falaschi. The 135 was one of the earliest examples of Art Deco design theme, which emphasized streamline shape and graceful details. It became a favourite of wealthy customers, especially movie stars and playboys.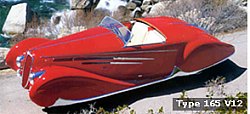 165's windscreen could wind down


A further development of the 135 was the 145 race car. Instead of the straight-6, it got a powerful 4.5-litre V12, giving it some great moments against the German Mercedes-Benz and Auto Union in GP racing.

165 was the road version of 145. Its V12 was detuned to around 175hp, still very powerful for the day. Again, bodywork was built by Figoni & Falaschi, and again shaped with streamline Art Deco design theme. A further refinement from the 135 resulted in full skirts and a convertible top hiding neatly under a metal hood cover. The artistic design earned it a place in the 1939 World Fair at New York, representing France. Unfortunately, WWII broke out later that year and all cars production stopped. Only 5 cars were made before that.

Specifications
| | | |
| --- | --- | --- |
| Model | Delahaye 135M | Delahaye 165 |
| Year of production | 1936-54 | 1939 |
| No. produced | All 135: approx 2,000 units | 5 units |
| Layout, Gearbox | Front-engined, Rwd, 4M | Front-engined, Rwd, 4M |
| Engine | Inline-6, ohv, 2v/cyl | V12, ohv, 2v/cyl |
| Capacity | 3557 cc | 4496 cc |
| Power | 115 hp | 175 hp |
| Torque | N/A | N/A |
| Weight | N/A | 1450 kg |
| Top speed | 95 mph | 115 mph |
| 0-60 mph | N/A | N/A |
---
Copyright© 1997-2009 by Mark Wan @
AutoZine