Vallelunga was the first road car made by De Tomaso. Presented in 1963 and formally went into series production in 1965, it was the world's earliest mid-engined road car, beating Ferrari Dino, Lamborghini Miura and Lotus Europa. Some argued that the 1954 Porsche 550 Spyder and 1964 Ford GT40 were even earlier, but they were actually race cars instead of road cars.

Named after an Italian racetrack, Vallelunga was a small and flyweight sports car designed with a philosophy similar to Lotus. It had a lightweight glass-fiber body and backbone type chassis like Lotus Elan. The backbone connected to the mid-mounted engine and transaxle. The latter was stressed member, providing direct mounting for the rear suspensions and bodywork thus saved substantial weight without compromising rigidity. Interestingly, this state of the art technology was shared by the 1963 Lotus 25 formula 1 race car. While most people gave credit to Colin Chapman, very few knew Alejandro De Tomaso pioneered the idea at the same time.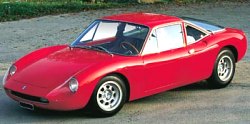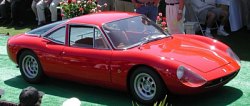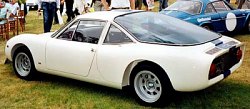 As the car weighed just 700 kilograms, a 1500cc Ford Cortina push-rod engine, tuned to 104 horsepower, was considered enough. Unfortunately, contemporary Lotus Elan weighed the same and got a lot more power from the more advanced Ford twin-cam engine. In comparison, Vallelunga's 112 mph top speed seemed modest.

However, the handling of Vallelunga was considered as first class. It had a very balanced chassis (47:53 in dry, or close to 50:50 with driver and full tank of fuel), light yet crisp rack and pinion steering, powerful 4-wheel disc brakes, cast magnesium wheels and race car-like suspensions (double wishbone front, multi-link rear, lifted from De Tomaso's F3 cars). To a car this small, its specifications was unusually high. The only drawback was a lot of vibration and harshness transmitted to the cabin due to the rigid connection from suspensions through engine / gearbox to the chassis.

Unfortunately, after only 58 cars built, De Tomaso turned his interest to a more ambitious project, the V8-powered Mangusta. Vallelunga ended its short life in 1967.