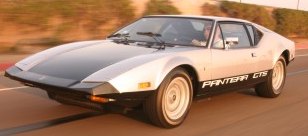 1973 Pantera GTS



To most car lovers, De Tomaso and Pantera were equivalent terms. Among the 8500 or so cars ever produced by De Tomaso, about 85% of which were Panteras. The car was introduced in 1971 and survived until 1994, spanning across a quarter of a century. In the supercar field, no one else could match this record.

Compare with contemporary Lamborghini Countach, Pantera was neither an engineering masterpiece nor a trend setter. However, it was the first affordable supercar ever appeared. When it went on sale in the United States in 1971, it was priced at just US$10,000, even cheaper than Ferrari's entry level Dino 246GT. Never before a 160 mph mid-engined supercar could be that bargain. It was therefore referred to "the poor man's Lamborghini".

The birth of Pantera was driven by Ford. In the late 60s, Ford wanted to have a supercar to be sold in its showrooms to attract customers. Having refused by Enzo Ferrari for acquiring Ferrari, Ford teamed up with the more flexible Alejandro De Tomaso. The American giant provided funding to the Pantera project and was responsible for selling it in the America, while De Tomaso reserved the distribution right for Europe and the rest of the world. They set a very ambitious target of selling 4000 cars a year, and that was merely in the United States !



The early Pantera


Ford was (and still is) a dependable brand, so it requested De Tomaso to make the car reliable and easily serviceable, unlike the other Italian exotics. Therefore G. Dallara gave up the backbone chassis employed by the previous Vallelunga and Mangusta and designed a conventional steel monocoque for the Pantera. It was much stiffer than the Mangusta thus solved the chassis flexing problem. The weight distribution (at 41:59) was also much better than its predecessor. The car was designed by Tom Tjaarda of Ghia (Alejandro De Tomaso bought Ghia a few years back). Although it didn't look as innovative as the Giugario-designed Mangusta, it was still a striking design. To play safe, it had conventional doors and engine lid. To please American buyers, it was equipped with air conditioning and power windows as standard, plus a big boot behind the engine compartment. As a result, Pantera was far easier to live with compare with Lamborghini, Ferrari and Lotus.

Naturally, the engine came from Ford - 351 cubic inches (5.7 litres) Cleverland V8, transplanted from Mustang Boss 351. Although the push-rod Detroit iron lacked the sophistication of those four-cam V12s from Ferrari and Lamborghini, it produced 330 horsepower (gross) and, at least in the first test by Car & Driver, capable of 159 mph and 0-60 mph in 5.5 seconds. That matched Ferrari Daytona and eclipsed Lamborghini Countach LP400. The use of Ford V8 had another advantage: it was cheap and easy to be serviced.

Comment about the early Pantera was: strong and torquey engine, slick ZF transaxle, sharp steering, taut handling, decent brakes, cramped cabin and bad driving position. Unfortunately, the typical poor build quality of De Tomaso did not match the rest of the car, nor the expectation of Ford. Sales never met the original target. And then it was hit by oil crisis and the tightening of emission regulations. After 5,500 cars delivered to the USA, Ford decided to pull the plug in 1974. Since then Pantera had never officially exported to the North America.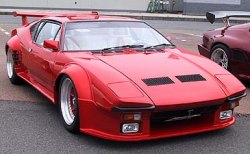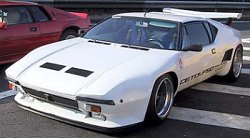 Left: 1980 Pantera GT5; Right: 1984 Pantera GT5-S


However, it continued to survive in Europe. From 1971 to 1990, Pantera was updated many times: in 1972, Pantera L was introduced as the luxurious model. In 1973, Pantera GTS introduced a high-compression version of the V8, good for 350 horsepower and a claimed 174 mph top speed. In 1980, Pantera GT5 added a set of "ground effect" aerodynamic kits - spectacular spoilers and rear wing, extended wheel fenders to house the super-wide tires. It finally got an exotic look to match Lamborghini Countach ! In 1984, the body kits melted smoothly into the body and the car became GT5-S.

Throughout those years, the engine remained the same 5.7-litre Cleverland V8, but power output changed many times due to tightened emission regulations and the attempt to claw back by modifications. As these changes appeared frequently, and De Tomaso was always reluctant to revise the specifications (e.g. top speed was always 174mph / 280kph), it is not easy to find the exact specifications for each model. However, for most of the time the power output varied between 300 and 350hp, except in the last years dropped to 247hp.

The evacuation from the America hit the sales of Pantera very much. After the Ford era, De Tomaso itself managed to sell only one thousand cars in the following 20 years. As a result, Pantera was changed from a mass production supercar to an exclusive supercar selling at a price nearer to its Italian rivals. After the mid-80s, the car felt really outdated. As Alejandro De Tomaso was concentrating on his newly acquired Maserati (which was a bigger business), he left the car bearing his name unchanged.





The situation was not changed until the 1990 revision. By the time, Pantera was already 20 years old. In many ways, the new Pantera could be said as a new car. Its bodywork was thoroughly redesigned by styling maestro Marcello Gandini. It looked more modern and refined, if not as striking as the original car. The most special feature was a spoiler located at the bottom of the windscreen (same as Maserati Shamal, another Gandini design). Another feature was the Ferrari F40-style rear spoiler.

The Series II did not gain weight because it got a lighter chassis and a lighter engine. Its monocoque chassis became a hybrid between monocoque center section and tubular sub-frames. It suspensions were heavily modified. The ancient Cleverland V8 was replaced by the contemporary Ford Mustang's 302 cid (5-litre) V8 with electronic fuel injection, which complied with newer emission regulations. De Tomaso fitted new cylinder heads, intake manifolds, camshafts, valves and pistons to improve its output to 305 horsepower. Later cars were detuned to 248 hp due to stricter emission compliance.

In 1991, an even more spectacular version was announced: Pantera 200. This car added twin-turbo to the V8, boosting output to 450 horsepower and top speed to 200 mph, hence the name of the car.

Pantera 200 was introduced at a time when everybody built supercars. Unfortunately, the supercar boom went burst soon thus I believe De Tomaso had never delivered the car. In fact, the burst also killed the Series II Pantera. Only 41 cars were built until 1994.

The golden era of De Tomaso also ended together with Pantera. Alejandro De Tomaso could no longer build another car as great since he got a stroke in 1993. He survived, but never fully recovered until his death 10 years later.