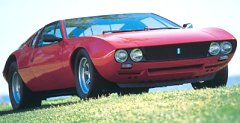 When it debuted in 1967, De Tomaso Mangusta must be a sensation. It was one of the earliest mid-engined supercars in the world. It was enclosed with a sensational bodywork designed by the young Giorgetto Giugiaro (when he was the design chief of Ghia). Apparently, Giugiaro was inspired by sharks, so he designed the Mangusta to be as striking as sharks - sleek, sharp and low. It had a pair of spectacular gullwings - not doors, but engine lids. They hinged at the center, no wonder the car had an unusual split rear window.

However, the mechanicals not quite matched the styling. While Lamborghini and Ferrari persisted in high-tech V12 engines, De Tomaso seek a low cost push-rod V8 from Detroit - Ford's 289 cu (4.7 litres) V8, tuned to 306 horsepower by Carroll Shelby. It was the same engine that powered GT40, Mustang GT-350 and some AC Cobras, so it was not short of power. But when come to smoothness, revvability and ultimate power, it was no match with the Italian V12s, of course.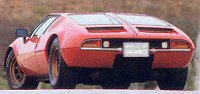 Like De Tomaso's first car, Vallelunga, the Mangusta had a backbone type chassis. However, the iron V8 and the steel body panels meant it was not particularly lightweight. At 1400 kg, it could top 152 mph and 0-60 took about 6 seconds. In short, it was no faster than an ancient Aston Martin DB4 GT.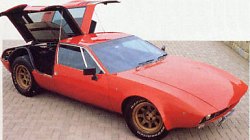 Handling didn't match its supercar look either. Like many other products by De Tomaso, this car was underdeveloped. Its backbone chassis might work fine in Vallelunga, but in the longer, heavier and more powerful Mangusta the chassis was too weak, resulting in a lot of flexing, hence unpredictable handling. Moreover, De Tomaso failed to tame its unbalanced weight distribution of 32:68.

Perhaps Alejandro De Tomaso was too good as a businessman, he cared more about profits than engineering excellence and build quality. In 4 years, he built around 400 Mangustas, all finished with poor quality and troubled by rust problems later on. The Mangusta died in 1971 as De Tomaso turned his interest to a more profitable project, Pantera.