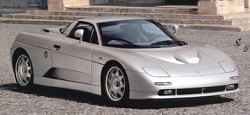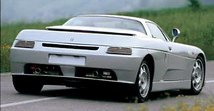 Introduced in 1993 at Geneva motor show, Guara was the last model created when Alejandro De Tomaso was effectively in charge of his company - he suffered a stroke that year and never fully recovered since then. Last built in 2004, Guara also was the last De Tomaso rolled off the Modena factory. Unless somebody resurrect this marque in the future, Guara could be the definitive De Tomaso.

Commercial-wise, Guara was not a success. In 10 years time only 40 Guara coupes and 10 Guara barchettas were sold. They were built to orders, so sometimes the Modena factory was idling. I suspect it did not bankrupt because of the money earned from the sale of Maserati.

Compare with Mangusta and Pantera, Guara was not a sexy design. It was designed by Carlo Gaino, a freelance designer who previously penned Maserati Barchetta. In fact, Guara was engineered based on the Maserati road-racer, no wonder it had race-car-like suspensions - very long double wishbones with inboard springs and dampers operated by pushrods. The suspensions were designed by a company which made the suspensions of Williams F1 cars !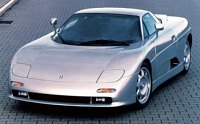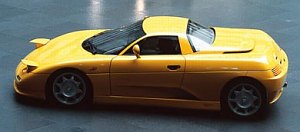 Apart from suspensions, other aspects of the car also were state-of-the art. Its bodyshell was made of carbon-fiber and Kevlar. Its chassis was a backbone type - like Vallelunga and Mangusta - but it avoided the flexing problem of Mangusta by fabricating the backbone in aluminum honeycomb sandwich material, which was light yet stiff. The fuel tank was housed inside the central tunnel so that it did not affect weight distribution.

The early car was powered by BMW's 4.0-litre 32-valve V8, tuned to 304 horsepower. It was the first time a De Tomaso used an engine other than Ford's. It hooked up to a Getrag 6-speed manual gearbox (from Audi RS2). As the car weighed only 1200 kg in dry, it could sprint from standstill to 60 mph in 4.8 seconds and top 270 km/h (168 mph) according to the factory claim. This is probably the most credible claim in De Tomaso's history !

From 1998, the BMW engine was replaced by Ford Mustang Cobra's 4.6-litre 32-valve V8. Compare with the BMW engine, it was heavier, less smooth but it returned the same horsepower. Most important to De Tomaso, it cost just a third the price of the BMW engine !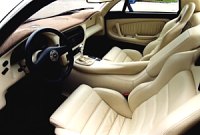 Surprisingly, despite of the race-car-like chassis design, Guara had a rather comfortable cabin. It was roomier than Pantera and fully clad in leather. The driving position and ergonomics was excellent. Because of the extensive use of BMW and Ford parts, cabin quality still could not match Ferrari and Lamborghini, but already an improvement from Pantera.

On the road, the mid-engined machine ran like a race car. It displayed minimal body roll while the 245/40ZR18 and 285/35ZR18 tires generated strong grip. The 6-pot cross-drilled Brembo brakes produced amazing braking power. With a long wheelbase (2610mm), short overall length (4190mm) and very wide body (2030mm), the Guara was stable in corners. However, like many old-school mid-engined supercars, lift off throttle mid-corner could kick its tail out. Therefore driving it to the limit required good skill. It was not as fool-proof as today's supercars, but it definitely was fun and rewarding to drive.

Despite of the lack of commercial success, Guara was actually the best engineered De Tomaso during its 40 years history.