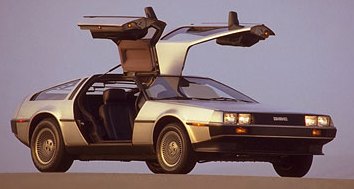 In March 2005, the legendary John Z. DeLorean died at the age of 80. He will be remembered for two things: 1) He created the first modern muscle car, Pontiac GTO, when he was a senior executive at GM. This kick started the muscle car fever from the mid-1960s and drove many rivals to follow suit. Muscle car lovers must miss him very much. 2) After leaving GM, he established his own car company in Northern Ireland thanks to a substantial loan from the UK government. The company produced a very special coupe called DeLorean DMC-12. In two years time, 8583 units were built. After that, the company went bankrupted. He escaped back to his homeland. British tax payers must remember him very well.


While his reputation was notorious, his car was much more interesting. Unquestionably, DMC-12 was one of the most unique coupes in the 1980s. Its wedge shape, futuristic appearance was styled by Giorgetto Giugiaro. It had a pair of "gullwing" doors like the old Mercedes 300SL. This spectacular feature won the chance to star in Michael J. Fox's movie "Back to the Future" as the time machine. The 1985 film made it famous and created a love affair of the car. Unfortunately, by the time DeLorean had already bankrupted long ago.

Very special indeed, DMC-12 had a rear-mounted engine like Porsche 911. Its chassis was engineered by Lotus, no wonder it had a steel backbone chassis like Lotus Esprit, as were the double-wishbone front and multi-link rear suspensions. Like Lotus Elite, the body structure was glass-fiber, but the outer panels were brushed stainless steel, unpainted and beautifully shown in their original color. This was a unique feature of DeLorean and you cannot find the same in other cars of the time. It was therefore durable and rust-free.

Power came from a PRV (Peugeot-Renault-Volvo) 2.8-litre sohc V6 like Peugeot 505, Renault 25 and Volvo 760. It would have produced 160 hp in Europe, but Federalized to take on its main market the USA, emission control reduced its output dramatically to 130 hp. Transmission was either a Renault 5-speed manual or a 3-speed automatic. DeLorean claimed the car could top 130 mph and do 0-60 mph in 8.5 seconds, but it never seemed capable to do that. When mated with the automatic gearbox, Road & Track timed 10.5 seconds to 60 mph and only 105 mph top speed !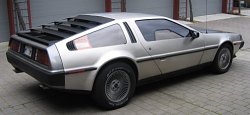 At a time when suspension design was not as matured as today, DeLorean's rear-engined layout and 35:65 front-to-rear weight distribution resulted in serious oversteering. As a result, it was not a good car for driven hard. However, being a comfort-biased coupe it worked very well, thanks to a good ride quality, a roomy cabin, multi-adjustable seats and large openings by the gullwing doors. John Z. DeLorean knew the American buying taste very well, so DMC-12 was designed to be easy to live with.

DeLorean chose to build the car in Belfast, Northern Ireland because the UK government offered the biggest financial incentives - in the form of loan and tax benefits worthing in excess of US$100 million - to secure the deal. It would have eased the high unemployment rate of Belfast if the company produce 25,000 cars annually as promised by DeLorean. Somehow, the car was not as successful as he had hoped in the USA, blamed to the poor performance and initial quality problems that did not justify its price and the exotic look. Unfavourable currency exchange did not help too. The company finally bankrupted in late 1982. Meanwhile, DeLorean was arrested and charged by FBI for drug distribution. Although he was eventually discharged for technical reasons, his reputation suffered. He went back to the USA to escape from the investigation by the UK government. Until he died the British government had never chased back the money.