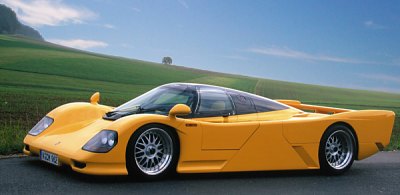 One of the most spectacular supercars ever built was Dauer 962 LM. Some supercars were converted to race use, some were designed with racing purpose very much in mind, but the Dauer 962 LM was completely reversed - it was a racing car converted for road use. No wonder it could out-performed McLaren F1 and simply anyone else.

Every motorsport lovers must know how great the Porsche 962 endurance racer was. It and its predecessor, 956, dominated the Group C scene for a decade. Itself won five World Sportscar Championships and 6 Le Mans, although occasionally challenged by Jaguar XJR series and the Silver Arrow (Mercedes-Benz). It was also the most popular racing car ever built - about 150 cars were built. Many used cars were available in the market, while spare parts were widely available from Porsche as well as the aftermarket. Therefore, when a so-called "Supercar Boom" occurred in the early 1990s, several racing teams decided to create the "ultimate" supercars based on the 962.



Development



One of which, and surely the most successful one, was Dauer Racing. Team founder Jochen Dauer had already achieved success in WSC (World Sportscar Championship) and IMSA with his 962s. When turbocharging was banned in 1991, Dauer began developing a road-going version of the 962. Everything was straight forward - the steel tubular space-frame chassis was retained, so were the twin-turbo flat-six engine and the massive racing brakes. Dauer just mildly de-tuned it for road use, then reshaped the Kevlar body to reduce drag and downforce, and then added road-legal lamps, mirrors, catalytic converters, ABS and trimmed the cockpit. In this way, he did not need a big budget to create the fastest car in the world.

The styling was the work of Achim Storz, who used to work for Porsche Design and who penned the McLaren M26 supercar of the 70s. If you have seen the M26, I am sure you won't have too much expectation on him. Actually, the Dauer 962 LM looked more than 90% the same as the racing car, I really cannot see what special thing the stylist did on it. And of course, the functional shape delivered no artistic feel at all, unlike Ferrari, Lamborghini and other supercar makers did.



Performance



The engine was the Le Mans spec 2994cc watercooled flat-six with twin-cam per bank operating 4 valves per cylinder. Twin KKK turbochargers with individual intercoolers. Bosch Motronic 1.7 engine management system controlled the ignition and injection. With an extraordinarily-high compression ratio of 9.0:1, the engine output an astonishing 730 hp at 7,600 rpm and 517 lbft at 5,000rpm. That translated to an astonishing 240hp per litre ! How could Dauer do that? considering a 1996 Porsche 911GT1, whose engine was also derived directly from the 962's racing unit, managed only 172hp per litre, Dauer's figures were not without questions.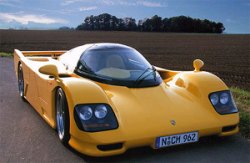 People doubted not only its power rating, but also the performance claims - Dauer said the car could accelerate from standstill to 100km/h (62mph) in merely 2.6 sec, and then arrive 200km/h (124mph) in 7.2 sec. As for top speed, 251 mph could put it to the top of the world, beating McLaren F1 by 11 mph.

After years of doubt, Dauer 962LM finally hit 251.4mph (404.6km/h) at Volkswagen's Ehra Lessien test track in November 1998. It should put an end to the debate. However, doubters could still question whether the test car got over-boost that did not comply with European emission regulations. After all, a race-bred engine should be easy to revert to racing spec.

If the road-going Dauer 962 LM really possessed 730 horses on tap, the aforementioned top speed and acceleration would have been in no question, because the car weighed only 1080 kg and had an excellent aerodynamic drag at merely 0.31, which was easily achieved in wind-tunnel work by removing the excessive downforce from the Porsche race car. A typical Porsche 962 race car had a Cd at least 0.40, but its tremendous downforce enabled it to corner at nearly 200 mph. As the road car had only 40% downforce of the racing 962, Dauer transformed that to higher top speed.



Handling



The chassis was nearly unchanged from the Porsche Group C racer - steel tubular space frame covered with Kevlar body, very professional for its time, if not as rigid as McLaren's carbon fiber monocoque. Power was fed through a 5-speed manual gearbox to four large-diameter wheels and tyres (front: 265/35ZR18, rear: 285/40ZR18), which were suspended by no-nonsense double wishbones. Springs were made of titanium, while dampers were height-adjustable like Porsche 959. When the car was running at high speed, the driver could lower the ride height with just a flick to a switch, thus making better use of the ground-effect undertray to enhance stability.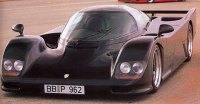 Stopping power was provided by huge cross-drilled, ventilated disc with 330mm diameter and four-piston Brembo calipers.

Traveling in city traffic, 911 & Porsche World discovered its steering and clutch not as heavy as predicted, the air-conditioning was effective and the engine was surprisingly tractable. The magazine did not really tested it seriously in Autobahn, but you can imagine how stable and tout it could be, from the racing nature. Also, you can imagine how much shock sent to the cabin from the stiff suspensions which allowed so little suspension travel. In Autobahn, just like a racing track, that was unlikely to be a problem, but in everywhere else, don't expect any comfort.

Obviously, this German machine was designed to run in Autobahn only. If you take it to UK and run it in the typical B-roads, hoping it to maneouve as swiftly as Porsche 911 or McLaren F1, you are likely to have a very different finding. After all, Dauer 962 was never considered to be driven on such roads.



Practicality aspect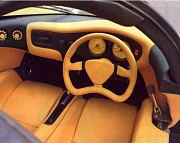 Although it was equipped with air-conditioning and ABS, Dauer 962 still couldn't overcome the limitation of its original nature. The cabin was really very very and very cramped. The Porsche racing car was originally a single seater, without enlarging the cockpit, Dauer had to squeeze two seats inside, positioned so near that the driver and passenger's shoulders touched each other. Since the driving position was off the center line, the driver's head nearly touched the curvy side window. Legroom was even worse, and it was impossible to get in and out without detaching the steering wheel, just like the racing car.

You might have seen many supercars having wide door sills, but Dauer's were the widest of all. You have to step on the sill, detach the steering wheel, then fall difficultly into the tiny seat. There was a luggage compartment inside the right door sill, which could take several custom-made carbon fiber cases, though no one would use the Dauer as a touring or shopping car. Behind that luggage compartment and also in the left sill, there were two radiators just like the racing car. Dauer did not alter much the basic structure.

The worst aspect was rear visibility - the Dauer 962 had no rear window at all ! all the rear vision depended on the side mirrors, which were so far away from the driving position. Reverse parking really needed a luck, or a third party helper. In contrast, the forward vision was fairly good, thanks to the big and deep windscreen.



Homologation version - 962LM Sport



Dauer originally had no intention to build a racing version of the car - it seemed nonsense to convert a race car to road car and then back to race car ! however, Porsche saw its potential to win Le Mans and persuaded Dauer to do so. Of course, a Le Mans win would benefit the image of Porsche.


To qualify for Le Mans GT1 category, which required just one road car to be built, Dauer created the 962LM Sport. The Sport version was basically the same as the normal version, but it had a flat bottom instead of the ground-effect tunnel to comply with Le Mans rules. To regain the lost downforce, it had the nose lengthened, the tail deepened and installed a bi-plane rear wing. It also got stronger brakes and wider tires (front: 285/35ZR18; rear: 345/35ZR18). The engine and power remained unchanged.

Taking advantage of the GT1 rules, the Dauer 962LM Sport was allowed to run 100 more horsepower than the top Group C category and use a larger fuel tank to save refueling time. Although many teams protested that the Dauer was actually a thinnly-disguised group C race car, violating the original idea of GT1, Dauer still qualified for the 1994 race. It ran 15 seconds a lap faster than other GT1 cars and eventually took the victory - not only GT1 class but also the overall victory !

Unsurprisingly, next year the governing body revised the rules and banned it from GT1.



Production



All Dauer 962 LM were modified from those Porsche 962 which had been raced. In this view, it was a "modified car" rather than a "production car".

Back in 1994, Jochen Dauer claimed he could build at most 50 cars from the racing cars found on the market. Obviously, the final number was far smaller than that. The exact production figure was undisclosed, but should be in the region of a dozen cars. Amazingly, 6 of them were bought by the Sultan of Brunei.



Versus McLaren F1



In fact, Dauer was never seriously tested by the press. The automotive world, no matter journalists or enthusiasts, never paid too much attention to the Dauer, although it was the fastest road car in the world until Bugatti Veyron. Perhaps all of us have got annoying after watching Porsche 962 dominating the racing scene for many years. Perhaps the world was not interested in a race-converted-to-road car. Perhaps we wanted a real supercar which was original, beautiful and technological innovative. In this aspect, McLaren F1 was still the King.