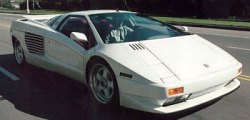 Once again, a stunning supercar was born. Once again, it was not properly produced before the company broke down due to poor sales. Like Bugatti EB110 and many others, Cizeta Moroder V16T was a short-lived supercar from the supercar booming period in the early 1990s.

We may call it a sub-product of Lamborghini - engineered by former Lamborghini man, Claudio Zampolli, the Moroder V16T followed the golden rules set by Lamborghini Countach, such as mid-engined, tubular space frame chassis with aluminium body, low and very wide dimensions and a powerful normally aspirated engine. In particular, it looked nearly identical to Lamborghini Diablo, only with all the round edges sharpened.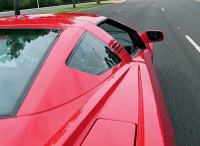 In fact, it was styled by the same designer as Diablo, Marcello Gandini, and there was a story behind this embarrassing scene: the Cizeta's design was actually closer to the original design Gandini did for Lamborghini, however, after heavily modified by Chrysler's studio (Chrysler owned Lamborghini then) to suit customer taste, Gandini quitted with a red face. He realized his original dream by offering the design, though with a few modifications, to Cizeta, probably as a revenge.

The most spectacular part of the Cizeta was the V16 engine, which was made by merging two Ferrari V8s together. It was not the first V16 ever made - Cadillac did that in the 30s - but to a road-going sports car it was the first. It displaced at a full 6 litres, having 4 valves per cylinder thus in total 64 valves, 8 camshafts and 2 radiators. 520 hp eclipsed Diablo's 492 hp. The problem was: how to install this huge engine in front of the rear axle ?



Cizeta chose to install it transversely into the engine compartment. This avoided lengthening the wheelbase but required a very wide body to accommodate it. Therefore the car was stretched to 2055 mm in width, some 15 mm wider than the Diablo and 80 mm wider than Ferrari 512TR. Power sent to a 5-speed manual gearbox which was mounted at right angle to the centre of the engine, forming a "T", hence the suffix in the car's name.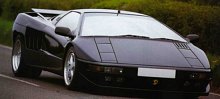 Based on the specifications, we are sure that the Moroder V16T was equally fast as the early Diablo, except its edgy shape may cost a few mph in top speed (Cizeta had never underwent wind tunnel testing). Acceleration to 60 mph should equal Diablo's 4.5 sec, considering it weighed a little more than the Lamborghini at 1700 kg.

Cizeta V16T was never a performance-first machine as Countach or Ferrari F40, it was designed to be a supercar suitable for millionaires to drive without complaint while offering stunning look, spectacular specifications and thrilling performance for occasional hard driving. This could be reflected by its leather-everywhere interior. It offered satisfying comfort for those over 6 ft, and with conventional doors it was easier to get in and out than the Lambo. One of the wealthy customers was the Sultan of Brunei, who bought 3 among the total of 11 cars built.