Citroen Traction Avant (1934)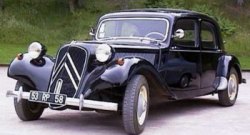 Made between 1934 and 57, Traction Avant established Citroen's reputation as a technology leader of motor industry. Cars introducing one or two innovations could be described as advanced, but Traction Avant had many innovations simultaneously. It was the world's first mass production car employing front-wheel drive, hence the name "Traction Avant". It had a monocoque construction which was not only stronger but lower than conventional body-on-frame structure, thus gifted it excellent road-holding and agility. Its engine featured overhead valves instead of side valves. All of its wheels were suspended by independent torsion bar suspensions. Brakes were actuated by hydraulic. It even got the first Michelin X radialply tyres. If we say the 1934 Chrysler Airflow was ahead of its time, then Citroen Traction Avant can be described as ahead of Chrysler - by some margin !



Few cars could be produced for as long as 23 years. Even fewer cars could remained popular before and after WWII - some 760,000 units were sold until 1957. If not being so advanced, Traction Avant would not have been such a car.

Specifications
| | | |
| --- | --- | --- |
| Model | Citroen Traction Avant 11 | Citroen Traction Avant 15/6 |
| Year of production | 1934-57 | 1938-57 |
| No. produced | Total: 759,111 units | Total: 759,111 units |
| Layout, Gearbox | Front-engined, Fwd, 3M | Front-engined, Fwd, 3M |
| Engine | Inline-4, ohv, 2v/cyl | Inline-6, ohv, 2v/cyl |
| Capacity | 1911 cc | 2867 cc |
| Power | 56 hp | 77 hp |
| Torque | N/A | N/A |
| Weight | 1100 kg | 1325 kg |
| Top speed | 71 mph | 81 mph |
| 0-60 mph | N/A | N/A |
---
Copyright© 1997-2009 by Mark Wan @
AutoZine