Launched in 1970, the SM stunned the world at a scale no smaller than the DS did 15 years ago. It was a big luxury coupe enclosed with a streamline body, powered by a Maserati quad-cam V6, equipped with all the most advanced technologies available and could travel up to 140 mph, hence the fastest front-drive car in the world. All journalists were excited by this state-of-the-art coupe, but in the end it was a big commercial failure.

The SM was an even more ambitious project than the DS. Regardless of cost, Citroen wanted to show the world it could better the offerings from Jaguar, Porsche, Lotus, Mercedes etc. Its design chief Robert Opron created a striking proposal - it was very large, measuring 4893mm long and 1836mm wide, had a streamline shape that looked specially beautiful from side. The front end was a little odd, with a long long bonnet and 6 rectangular headlights housed behind a full-width glass shade.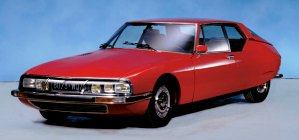 The cabin was small compare to the exterior, but enough to carry 2 adults and 2 children. It had a high-tech dashboard, a one-spoke steering wheel like the DS, full leather seats and all the luxurious equipment that you couldn't find in other French cars. Rain-sensitive wipers and a speed-sensitive hydraulic power steering seem like the latest technology today, but they were already available in the big Citroen coupe in 1970. Most other technologies came from the DS, such as the self-leveling hydro-pneumatic suspensions, the servo disc brakes and the headlamps that swiveled with the steering.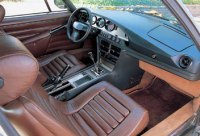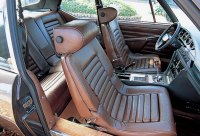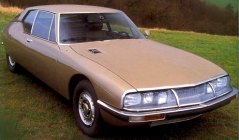 The real departure from the DS was engine. The DS always cried for a six-cylinder engine but it never got that during its life. For the SM, Citroen asked its new subsidiary Maserati to develop a new V6. This explained why the car called SM - Sport Maserati. Based on Maserati Indy's V8, Maserati developed a quad-cam aluminum 90° V6. In 3.0-litre and 220hp form it served Maserati's mid-engined sports car Merak. For the SM its capacity was reduced to 2670cc in order to fit in a lower tax category in France. The result was 170 horsepower and 170 lbft of torque. Later, power was raised to 178hp by the adoption of fuel injection. A 3.0-litre engine with 180hp was used only for the SM equipped with 3-speed automatic.



While such power output was a marked improvement from the DS, it was not enough for the big coupe which weighed 1450 kg in dry. Citroen claimed 8.4 seconds 0-60 for the 5-speed manual fuel injected SM. For comparison, a contemporary BMW 3.0CSi could do that in 6.9 seconds, while Jaguar E-Type V12 was quicker still.




However, the SM was nonetheless a good high-speed touring car. Its streamline body with Cd 0.34 allowed it to run to 140 mph. Its advanced suspensions delivered a supple ride while the self-leveling function led to remarkable high speed stability. Its power steering contributed to a relaxed driving. Sure, it rolled a lot in corners and it delivered no feel through the steering, but it never pretended to be a Lotus Elan. SM was designed to be a luxury grand tourer while retaining the good tradition of French cars.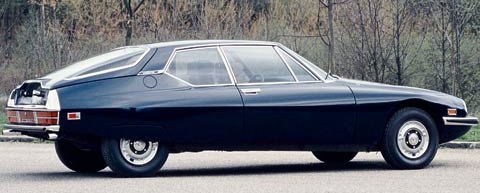 Initially, car journalists loved the big Citroen coupe very much. Unfortunately, it was soon known for serious reliability and servicing problems - even more so than the DS. Its Maserati V6 was found especially problematic - the vibration due to its 90° V-angle and the requirement for constant re-tuning. Maserati had little consideration for servicing when it designed the engine. Besides, the complex gearbox, suspensions and hydraulic system were all difficult to service. SM became a victim for its over-engineering. As these problems surfaced, sales declined. This was not helped by the 1973 oil crisis either. After Citroen was sold to Peugeot, the new owner decided to terminate the SM.