Citroen CX (1974)





CX was the last Citroen designed before the company was bought by Peugeot, therefore it was usually described as the last real Citroen. Launched in 1974, it succeeded the DS to be the company's large saloon. Many of its goodies were succeeded from the DS and SM, such as a long wheelbase, one-spoke steering wheel, the famous self-leveling hydro-pneumatic suspensions and a hydraulic power steering with self-centering function. Enclosing these was a body emphasizing low aerodynamic drag (Cd 0.36-0.37) which gave the name CX - the short write of Coefficient of Drag in French. It won European Car of the Year Award in 1974.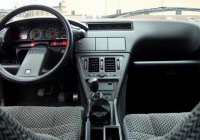 Like DS and SM, the CX was renowned for cosseting ride and sophisticated chassis technology, although these technologies were sometimes temperamental and unreliable. Another strength was a roomy cabin, especially for the long-wheelbase Prestige model, which offered more room than the contemporary Mercedes S-class !

The weak point was again the engines. CX relied on some ancient engines developed from the DS, still running pushrods instead of overhead camshafts. Moreover, only 4-cylinder engines were offered, with capacity varying from 2.0, 2.2, 2.4 to 2.5 litres. As a result, performance ranged from poor to modest. The only model worthed mentioning was the CX25GTI Turbo launched in 1984, whose turbocharged engine produced 168hp and 217lbft of torque.

The CX was in production for 15 years. Its best year was 1978, when 132,675 cars were built. After building 1.04 million units, in 1989 it was succeeded by XM, another ECOTY winner.

Specifications
| | | |
| --- | --- | --- |
| Model | Citroen CX2400 GTI | Citroen CX25 GTI Turbo |
| Year of production | All models: 1974-89 | All models: 1974-89 |
| No. produced | All models: 1.04 million units | All models: 1.04 million units |
| Layout, Gearbox | Front-engined, Fwd, 5M | Front-engined, Fwd, 5M |
| Engine | Inline-4, ohv, 2v/cyl, fuel injected. | Inline-4, ohv, 2v/cyl, turbo. |
| Capacity | 2347 cc | 2473 cc |
| Power | 128 hp | 168 hp |
| Torque | 145 lbft | 217 lbft |
| Weight | 1375 kg | 1408 kg |
| Top speed | 117 mph** | 126 mph* / 133 mph** |
| 0-60 mph | 10.0 sec** | 8.6 sec* / 8.1 sec** |

* Tested by Autocar
** Tested by CAR


---
Copyright© 1997-2009 by Mark Wan @
AutoZine