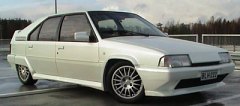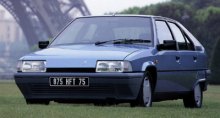 Left: BX19GTI had aggressive aero kit; Right: the regular BX



DS, SM and CX made names by advanced technologies and innovations, but also because of the complicated technologies hence reliability problems, they never brought commercial success they deserved. After years of losing money, Michelin - the owner of Citroen - withdrew in 1974. Citroen fell into the hands of its arch-rival Peugeot. The conservative new owner started rationalizing Citroen, eliminating excessive technologies and sharing components with its own models. This eventually brought Citroen back into black, but it also killed the individual character of Citroen.

BX was launched during this transitional period. However, compare with later Citroens it preserved most of the unique character, while compare with older Citroens it was far more reliable and practical to own. Combining the best of the two worlds, BX was probably the best Citroen since 2CV.




BX was unique in many ways. First of all, its Bertone design, penned by the famous Marcello Gandini (Lamborghini Countach), looked like no other cars around. It lacked the oddity of traditional Citroen, replaced by a striking angular shape yet achieved a wonderful drag coefficient of 0.34. Best of all, this design remains timeless today, while contemporary family sedans like Ford Sierra, Renault 21 and Peugeot 405 feel far more outdated.

BX brilliantly avoided the two traditional weaknesses of Citroen, namely, overweight and rust problem, by using composite and plastic body panels extensively. The glass-fiber reinforced plastic composites included the bonnet, the tailgate and the roof, while the bumpers and fuel tank were made of plastics, the trasparent quarter panels were polycarbonate. Therefore the BX was very lightweight (e.g. 960 kg for a typical 1.6-litre BX) and quick on its feet.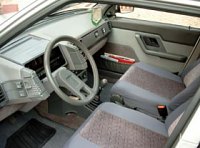 Its packaging was also worth praising. A compact exterior dimensions enclosed a long wheelbase and a somewhat "cab-forward" proportion to enable vast of headroom and legroom for all passengers. The cockpit had a futuristic digital instrument panel. All controls were concentrated within a finger distance from the steering wheel, very aircraft like.

When the BX launched in 1982, fans of Citroen must be delighted it continued to use the independent hydro-pneumatic suspensions. A sphere containing gas and liquid at each corner provided springing and damping. Their setting was stiffer than Citroens of the past, thus gave better roll resistance to please keener drivers. Low speed ride suffered a little, but at high speed the ride quality still marked it out from other cars. The self-leveling function kept ride height unchanged regardless of load. It also raised or lowered the car automatically in relationship to speed, or adjusted by the driver. Besides, the hydraulic system got simpler and more reliable. These continue improvement made the BX far more livable than previous Citroens.

BX also tackled another traditional weakness of Citroen - engines. It was benefited by the much better SOHC engines from Peugeot. The most popular were the 93hp 1.6-litre, 105hp 1.9-litre and the GTI's 125hp 1.9-litre (it also came with a fancy aero kit with rear spoiler). Thanks to the good engines and lightweight body, all BX offered brisk performance. Hottest of the range was a DOHC 16-valve version of the 1.9-litre, good for 160 horsepower. It could do 0-60 in 7.9 seconds, faster than Peugeot 405 Mi-16 which shared the same engine.

The lovely BX lived until 1993. Some 2.33 million units were sold in 11 years, bringing Citroen the greatest success since the days of 2CV. It was replaced by Xantia and then C5, both had lost its charm somewhat and failed to match its sales success.