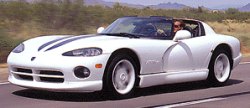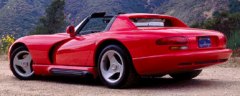 From the late 70s to the early 80s, Chrysler was troubled by oil crisis, recession and bankruptcy. Its president Lee Iacocca introduced a radical restructuring program, rationalizing models and reducing platforms to eventually only one - the front-drive K-car platform. This helped it to return to profitable, but the dull model lineup established a boring image and gradually failed to attract new customers. In the late 80s, Chrysler was approaching bankruptcy again. New president Bob Lutz and design director Tom Gale decided to revive the company by introducing a new wave of radically designed cars. This was kick started by the 1992 Dodge Viper - a concept car turned into production car, a modern muscle car and the first American supercar since Ford GT40.

From the beginning, Bob Lutz wanted to create a modern AC Cobra - a raw and powerful sports car that could accelerate to 100 mph and then brake to stop in merely 15 seconds. No wonder he chose a similar name for the car, Viper.

Viper was first launched in the form of RT/10 roadster. Never in American car history had a car looking so muscular, so dramatic and so wild. Tom Gale cleverly avoided direct competition with Porsche and Ferrari by adopting a pure American shape.

The muscular appearance was backed up by a muscle car engine - a truck-derived push-rod V10 which displaced a very truck-like 7990 cc. It was derived from the company's truck V8. Lamborghini, the subsidiary of Chrysler then, modified it by adding two extra cylinders, lengthening its stroke and recasting its block in aluminum. The early Viper pumped out 400hp and even more torque. 0-60 mph took just 4.6 seconds, 0-100 mph in just over 10 seconds. As fast as Ferrari F355, it earned USA a place in global supercar chart.

Viper was a small scale production. Its chassis was tubular steel backbone riding on classic double-wishbones suspensions. Bodywork was by composite plastics. Although it looked huge and bulky, it was actually pretty compact and lightweight. Moreover, its front-mid-mounted V10 enabled 50:50 balance. With big wheels and fat tires, it generated abundance of grip, if not sufficient traction to handle the tremendous torque. The big brakes were powerful. The engine was loud, raw and gearchange was truck-like. Ride quality was hard. Refinement was low. The cockpit was bare and cheaply built. No air con, no air bags, not even side windows. No ABS, no traction control. The Viper was as raw as its look suggested. However, people loved all these shortcomings in the same way they loved muscle cars of the 60s. Viper replaced Corvette as the icon of American sports cars.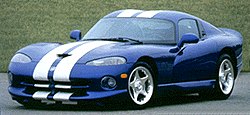 In 1996, Chrysler launched the hardtop GTS version. It had a lot of improvement, ranging from a 450hp engine, stiffer chassis to sharper suspension tuning thanks to the experience gained from motor racing. The GTS' composite roof had a double-bubble shape to accommodate people wearing helmets - an implication to its motorsport intention. It also reduced drag coefficient from 0.46 to 0.39, raising top speed to 185 mph.

However, with the introduction of GTS, Viper's success was no longer limited to straight-line performance. A French racing team helped Viper won 3 Driver and Manufacturer Championships in FIA GT2 category from 97 to 99, beating even Porsche 911 GT2. The GTS-R also stormed Le Mans in 98 and 99. Viper eventually won the deepest respect from the rest of the world !