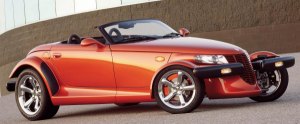 You have to admire the passion and guts of Chrysler's management from the late 80s to late 90s. They were renowned for putting radical concept cars into production. The driving force came from president Bob Lutz, who made the brave decisions, and design boss Tom Gale, who created a string of striking designs such as Viper, Neon, Intrepid, Cirrus and Ram pickup. While most people thought Viper was the most radical concept car ever put into production, Tom Gale showed an even more shocking roadster in 1993, the Plymouth Prowler. Reaction was so strong that it eventually went into production 4 years later.

While Viper was a modern interpretation of the 1960s muscle cars, Prowler took its inspiration from an even older period - the 1950s Hot Rod era. The term "Hot Rod" refers to those pre-war vintage cars converted with big engines and wide tires to deliver storming performance. In terms of styling, Prowler was a modern hot rod. It had open wheels, a narrow engine compartment and a vertical grille like those pre-war sports cars. However, its body shape was fully modernized, being low, sleek and aggressive. A pair of 5mph bumpers was added to the front end without ruining the shape. The visual effect was enhanced further by aggressive wheels and tires - note that the 20-inch rear wheels were 3 inches larger than the front wheels, while the super-wide 295/40HR rear tires generated much more grip than the modest V6 engine needed - all for styling purpose instead of engineering needs.

Talking about the V6, it was a disappointment of the car. The 3.5-litre, sohc 24-valve, iron-block engine came straight from the LH platform sedans. Producing 214 horsepower only and mated to a compulsory 4-speed automatic, how could it deliver performance matching its hot-rod look? the result was 0-60 mph taking more than 7 seconds. Although the engine was later converted to alloy block and upped the horsepower to 253, it still fell short of expectation. In 1999 Chrysler showed a concept version using a 4.7-litre V8, but it never materialized.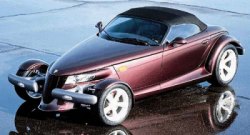 Like Viper, Prowler was a low volume production (they were built in the same factory) and an image booster to the brand. Unlike Viper, it was also used as a test bed for lightweight materials and production technology, so it was not going to break even. The chassis was an aluminum space-frame bonded by MIG welding, rivets and epoxy. The body panels were either aluminum sheets or plastic composites. The suspensions and brakes used aluminum extensively, while the dashboard was magnesium. Overall, the Prowler weighed about 1.3 ton. One-third of which was aluminum.

The car had its own suspensions. Up front were double wishbones with formula car-style pushrods and inboard dampers. At the rear were a 4-link setup. Coupling to the lightweight chassis and grippy tires, it should have delivered first class handling. Unfortunately, it didn't. The Prowler's aluminum chassis might look state of the art, but unlike the contemporary Lotus Elise, it lacked rigidity. The chassis displayed noticeable flexing under load or whenever riding over bumps. No wonder Chrysler set the suspensions stiffly, but in this way the ride quality suffered.

Sadly, otherwise the Prowler could have been a fine cruising machine. Unlike Viper, its cabin was richly equipped: leather seats, air-con, air bags, good audio system, remote keyless entry, power windows and cruise control.

Prowler might not be very memorable for the way it drove, but the shock it brought to the world in 1997 will never be forgotten.