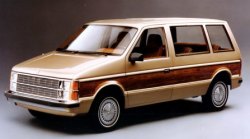 Modern minivans, or later known as MPV (Multi-Purpose Vehicle), were pioneered by three cars in three different continents - Chrysler minivans (1983), Mitsubishi Space Wagon (1983) and Renault Espace (1984). Among them, the Chrysler was the most van-like, but it was also the most successful in sales chart. In its first year it grabbed as many as 215,000 customers. 22 years later, sales accumulated to over 11 million units. It was therefore by far the most popular minivan in the world.

When Chrysler started developing the minivans in the late 70s, it was at the edge of bankruptcy. Company boss Lee Iacocca got $1.5 billion loan from the US federal government, about half of which was used to develop the new front-wheel-drive K-platform, the remaining was spent to develop the minivans. Because this new kind of vehicle had no track record, Iacocca's decision was very brave.

Interestingly, while Mitsubishi and Matra (Renault)'s designs were derived from cars, Chrysler's thinking was based on vans: how to adapt the people carriers to suit everyday use. This is why the first generation minivans look more like vans than cars.

The minivans differed from conventional vans in many ways. First of all, as suggested by its name, it was mini (by American standard of course). Small enough to be used as a daily transport like conventional cars, much easier to park than vans, fit most people's garages. Then, it had many clever touches to please family buyers. It had a sliding door to ease access to the rear cabin. This is more friendly to kids thus should please mother buyers. It had a flat floor to enable walking through from one end to another. It had three rows of seats to sit 7 people or 5 plus a lot of luggage space. Of course, the car-like dashboard, equipment and refinement also differed it from vans.

Despite of the van-like look, the minivan was derived from a car platform - the front-wheel-drive K-platform that gave birth to all Chryslers that period. Well, to enable the flat floor, it replaced the independent strut rear suspensions with a van-like solid axle with leaf springs. Otherwise were come from the K-platform, including the rack-and-pinion steering, the front MacPherson struts, the transversely mounted engine / differential / gearbox. Front-wheel-drive saved a lot of space thus gave it a superior packaging advantage over its rear-drive, van-based imitators such as Chevrolet Astro and Ford Aerostar.

The Chrysler minivan was initially available as two models -

Plymouth Voyager

and

Dodge Caravan

. Their differences were limited to cosmetic only. They employed some underpowered 4-cylinder engines and a 3-speed automatic gearbox, so you can imagine how slow they were. The non-independent rear suspensions meant it could not match Mitsubishi Space Wagon and Renault Espace for comfort and handling. However, the American loved its spacious cabin and utility very much. It became a hit in the USA, earning substantial profits and pulled Chrysler back to good shape. In the next 2 decades, the minivans continued to dominate the North America MPV market and was the company's best seller. Lee Iacocca's gamble paid off.