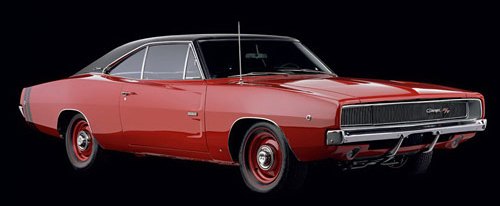 Dodge introduced the Charger line in 1966 to take on the muscle car fever kick started by Pontiac GTO. However, the first generation Charger was not very popular due to its unattractive look. When Chrysler repackaged it with a new body in 1968, it became a hit immediately, taking 92,590 orders that year.

The Dodge Charger from 1968 to 70 was one of the most beloved muscle cars ever made. Like all other muscle cars of the era, Charger had some big and powerful V8 engines under the hood to give storming acceleration. The most notable of which was the famed HEMI V8, with hemispherical combustion chambers and 426 cubic inches capacity (that's 7 litres), it pumped out 425 horsepower and 490 lbft of torque ! some even said the horsepower figure was underrated. Nevertheless, as the HEMI was very expensive, most sales went to the conventional 230hp 318 cu V8 (5.2 litres), 335hp 383 cu V8 (6.3 litres) and 375hp 440 cu V8 (7.2 litres).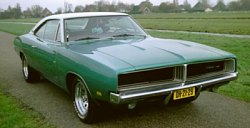 However, what made the '68-'70 Charger so popular was its attractive styling. Its body was long, sleek and shaped like a coke bottle. In contrast to other muscle cars, its lines were clean and pure. In addition, there were a lot of classy details, such as the distinctive grilleless nose (the whole nose looked like an air intake) with hidden headlamps, the thick and fast-angle C-pillars, the rear window recessed between flying buttresses like a mid-engined car…. the Charger was perhaps the greatest design of the muscle car era and one of the classics in automotive history.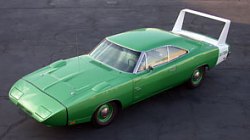 To homologate NASCAR, in 1969 Chrysler modified the Charger into the outrageous-looking Daytona. The Daytona was basically a Charger with aggressive aerodynamic kits, the result of wind tunnel testing. To reduce drag and aerodynamic lift, it added a sharp nose up front and a wing spoiler at the rear. The wing was mounted very high in order not to block the boot lid. It looked very spectacular.




As the kits added about 135 kg while the engine remained the same 440 cu V8 or 426 cu HEMI, the Daytona was slightly slower in acceleration. However, the reduced drag enabled a top speed over 150 mph, a first for American cars. Only 503 Daytonas were made to comply with the regulations of NASCAR.