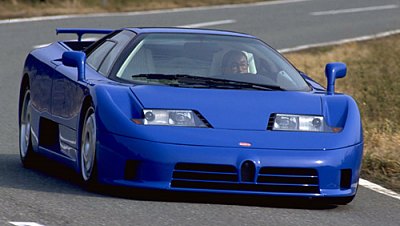 After the success of Porsche 959 and Ferrari F40, the early 1990s became a supercar booming period. The market was suddenly flooded with a dozen limited volume, ultra-expensive supercars (we are talking about at least twice the price of a Lamborghini Diablo). Among them, McLaren F1 was undoubtedly the greatest. Nevertheless, my personal favorite was another car - Bugatti EB110. I loved this car not because of its spectacular specifications, although it had carbon fiber chassis, 4-wheel-drive and a 60-valve quad-turbo V12 to impress everyone at the time. I loved it not because of its spectacular performance either. Although it did 212.5 mph and 0-60 mph in 3.6 seconds, it did not eclipse Jaguar XJ220, and McLaren F1 would have both of them beaten painfully next year. So why did I prefer EB110 to other supercars of the period? it was because of its versatile manner. Many supercars ran stormingly fast on the straight but suffered from difficult control in real world. In contrast, the Bugatti's compact size and 4WD helped it to handle nimbly on regular roads. It was the most accessible supercar of its time, just like an NSX with double the ability. In its first drive in Apr 1992, Autocar wrote "It's a 550bhp Mini Cooper !". Nothing could be better to describe this very special supercar.


After Ettore Bugatti's death in 1947, Bugatti declined quickly and eventually ceased car production. However, the marque was still memorable to many car lovers and was considered to be one of the most priceless nameplates in the sports car industry. Many years gone, in 1987, Italian tycoon Romano Artioli purchased the Bugatti marque and built a modernized factory at Modena of Italy, the global capital of sports cars. As a result, the nationality of Bugatti suddenly changed from French to Italian ! The first car rolled out the factory was a ground-breaking mid-engined supercar named EB110 - EB stands for Ettore Bugatti, while the number means it was introduced 110 years after the birth of the Bugatti founder.

EB110 was engineered by Paolo Stanzani, who created the most exotic supercar of the 70s and early 80s, Lamborghini Countach. In many aspects, EB110 was very similar to Countach. For example, both cars employed a mid-mounted V12 and a gearbox (unusually) located in front of the engine for better weight distribution. Both cars were designed by Marcello Gandini, no wonder they shared a similar wedge profile and "scissors" doors.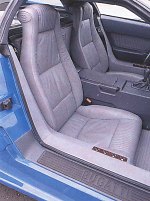 However, everything in the EB110 was state of the art. It had the world's first carbon fiber tub chassis, enclosed with aluminum body panels. The chassis had a high torsional rigidity at 19,000 Nm/degree thus it enabled lower door sills to ease access to the cabin. The car measured 4400 mm in length and 1940 mm in width, noticeably narrower than Lamborghini Diablo and a full size smaller than its arch-rival Jaguar XJ220. The cabin was not very large, but six footers should find enough space to relax. Also, ergonomics was very good by supercar standard - good visibility, well positioned pedals (no severe offset to inside) - while luxury items include wood trim, electric leather seats, air-con and power windows.

The engine had a specification to astound you: V12, quad-cam, 5 valves per cylinder (3 in 2 out) and a total of 4 turbochargers. At 3499cc, it displaced the same as XJ220, but while the Jaguar employed 6 cylinders to house this capacity, the Bugatti made do with 12 cylinders in the best tradition of Italian supercars. Each combustion chamber measured 81 mm in bore and 56.6 mm in stroke. The very short stroke contributed to its remarkable revability (redline at 8200 rpm), so did the lightweight titanium connecting rods. 5 valves per cylinder ensured fast breathing - it's earlier than Ferrari F355 to adopt this feature. In the standard car (called EB110GT), four IHI turbochargers compressed 1.05 bar to the combustion chambers and produced 561 horsepower at 8000 rpm and 450 lbft of torque at 3750 rpm. The power was delivered to a self-built 6-speed gearbox and channeled to all wheels by a viscous-coupling 4-wheel-drive system, 27 percent to the front and 73 percent to the rear.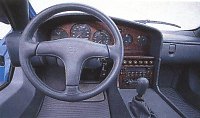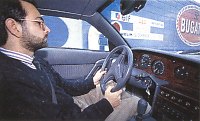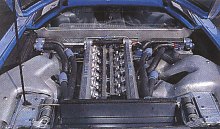 Before the arrival of McLaren F1, Bugatti EB110 was seen as the fastest car in the world together with Jaguar XJ220. In May 1992, a EB110GT with mirrors detached recorded 212.5 mph (342 kph) at Nardo test track. That exceeded the previous record set by Lamborghini Diablo by 10 mph.

Unfortunately, its acceleration was blunted by a very heavy kerb weight, although no one was sure about the exact figure (note 1). Test results from different magazines differed a lot, but even if we take the fastest times, the Bugatti was still slower than Ferrari F40 and Jaguar XJ220 (note 2).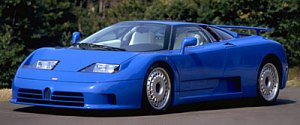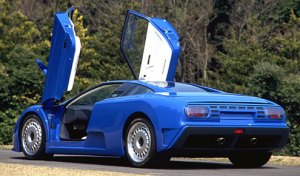 EB110GT

That's why beside the standard EB110GT, Bugatti also offered a lighter yet more powerful version called EB110SS, or "Super Sport". On the one hand, EB110SS had its turbo boost raised to 1.2 bar, hence deliberating another 50 horsepower at 8250 rpm. On the other hand, it underwent a diet to trim 150 kg of weight. That was done by deleting air con, electric windows and wood trim, by using lightweight plexiglass side and rear windows, carbon fiber bucket seats and lightweight steering wheel, by replacing the electric pop-up rear spoiler with a fixed one and by using carbon fiber to construct the engine lid and front compartment lid. Bugatti claimed EB110SS could top 218 mph and do 0-60 mph in 3.2 seconds. It may beat XJ220 and F40 finally, although no match with the upcoming McLaren F1, which was just months away. The Super Sport version was originally conceived as a rarer, more hardcore and (40 percent) more expensive version of the EB110GT, but once it went on sale it was proved to be as popular as the GT. One of the customers was Michael Schumacher, who bought a yellow EB110SS in 1994.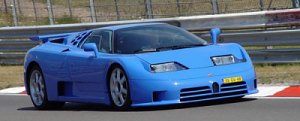 EB110SS


No matter GT or SS, EB110 was renowned for handling. Traditional big supercars like Jaguar XJ220, Lamborghini Diablo and Ferrari 512TR felt cumbersome in tight corners, while the powerful yet compact McLaren F1 was rather tricky to handle. In contrast, Bugatti EB110 was the only supercar of its time that truly capable, enjoyable and confidence-inspiring to attack tight and twisty roads. Its compact size allowed it to squeeze into narrow roads without worrying crashing, while its all-wheel traction always gave its driver full confidence to engage the throttle, no matter on wet surfaces or tight bends. Grip and balance were first rate too.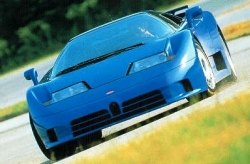 The steering was mighty precise and communicative. Thanks to the rear-biased setup of the 4WD system, handling was mostly neutral. A slight oversteer could be obtained when provoked, but correction was easy to be made.

The 6-speed gearbox had a superb shift quality: slick and short-throw. The small-capacity V12 revved turbine smooth, but it had too much turbo lag. Below 4000 rpm the engine delivered little power. Above that, however, the V12 went wild. 4 turbochargers might be too many for a 3.5-litre engine. That was probably the only flaw of Bugatti EB110.

Unfortunately, the supercar booming era was proved to be a short-lived one. There were too many competitors but too few millionaires could afford them. Worst of all, economic recession in Europe and Japan narrowed the market further. Romano Artioli eventually got into bankruptcy in 1995. The Modena factory came to an end. A total of 126 EB110s were built, 95 of them the GT and 31 the SS. There were 5 or 6 completed or near completed cars left in the factory. They were bought by Dauer, modified and sold later. The remaining 21 carbon-fiber tubs and engine toolings were snapped up by B. Engineering for the creation of Edonis supercar in the next millennium. What a sad way to end a great supercar !




Note 1: Weight: Bugatti claimed 1618 kg back in 1992, but German magazine Auto Motor und Sport measured 1796 kg in 1993 while UK magazine Autocar contradicted with 1566 kg in 1994.





Note 2: Acceleration figures: there was a wide gap between the time measured by Autocar and Auto Motor und Sport. The former recorded 0-60mph in 4.5 seconds and 0-100mph in 9.6 seconds, both were very disappointing. In contrast, AMS recorded 0-100kph (62mph) in 3.6 seconds, 0-160kph (100mph) in 8.3 seconds and 0-200kph (124mph) in 13.6 seconds. Nevertheless, that was still slower than Jaguar XJ220 recorded by the same magazine (4.0 sec, 8.2 sec and 12.2 sec respectively). The Bugatti's strong showing in 0-62mph acceleration was only due to its superior 4-wheel traction. Once the Jaguar had overcome wheelspin, it used its better power-to-weight advantage to leave the Bugatti behind. By 124mph, the gap was big enough to declare victory for Jaguar. However, both cars could not match the older Ferrari F40, which took 8.1 seconds to 100mph and 11.0 seconds to 124mph according to AMS.