Bugatti Type 57SC Atlantic (1935)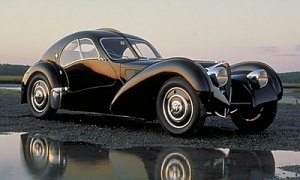 With 710 cars built between 1934-40, Type 57 was the most successful pre-war Bugatti but also the last one - WWII robbed Ettore Bugatti of his freedom and factory and he never covered until his death in 1947.

Type 57 was designed by his son Jean Bugatti. While most of the cars built were the standard version, Bugatti also built 40 units of 57S, which had shorter wheelbase and lowered chassis for better handling. To enable the latter, its 3.3-litre twin-cam straight-8 engine adopted dry-sump lubrication while its rear axle passed through the chassis rails rather than under the chassis.





Most customers took their 57S back to the factory for conversion to supercharged, which produced 210 horsepower, thus the car was renamed to 57SC, where C stands for "Compressor". However, the most valuable of these 57SC was the "Atlantic" version, whose aluminum bodywork looked futuristic and elegant. Only three 57SC Atlantic were ever made, making it one of the most valuable classic cars. Like other Bugattis, this car represented the best quality materials and craftsmanship of the time.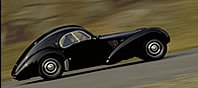 Specifications
| | |
| --- | --- |
| Model | Type 57SC Atlantic |
| Year of production | 1935-37 |
| No. produced | 3 units |
| Layout, Gearbox | Front-engined, Rwd, 4M |
| Engine | Inline-8, dohc, 2v/cyl, supercharger |
| Capacity | 3257 cc |
| Power | 210 hp |
| Torque | N/A |
| Weight | 950kg |
| Top speed | 120 mph (est) |
| 0-60 mph | N/A |
---
Copyright© 1997-2009 by Mark Wan @
AutoZine