Bugatti Type 35 (1924)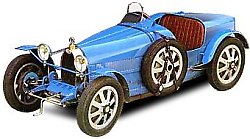 In pre-war era, the world of sports cars was dominated by 3 companies: Alfa Romeo of Italy, Bugatti of France and Bentley of Great Britain. Each of them represented different philosophies: Alfa Romeo emphasized technology and performance, Bentley was all about endurance, while Bugatti pursued art and craftsmanship. Born as the son of an artist and furniture designer, Ettore Bugatti insisted every car he built must be beautiful and elegant. Even racing cars could be no exception.

Many people regard Bugatti Type 35 as the most beautiful racing car in history. Its superb craftsmanship and attention to details made it a dream for wealthy racers then as well as car collectors today. Unlike Alfa, it was a good race car as well as a perfect road car. People could drive it straight from home to race tracks ! no wonder Bugatti could sell 200 cars to the public.

Type 35 was lightweight and its chassis was praised for excellent roadholding and precise steering. To reduce unsprung weight, it employed hollow axles and the world's first multi-spoke aluminum wheels (instead of conventional steel wire wheels). Nevertheless, its brakes were still operated via cables, unlike many contemporary rivals which had already switched to hydraulic.

Like many other Bugattis, it employed a straight-8 engine displaced 2 litres. A single overhead camshaft drove 3 valves each cylinder - 2 overhead intake valves and 1 side exhaust valve. The early car produced 90 hp to enable 90 mph top speed. In later years, it evolved to Type 35B and 35C, both added a root-type supercharger to boost power to 120-135 hp. The 35B also got a larger 2.3-litre engine to enable 125 mph top speed.

Arguably, Type 35 was the most successful racing car in history, winning over 2000 races during its life, including GP world championships in 1926, 28, 29 and 30. Admittedly, these successes were often overstated by car writers, because the Bugatti rarely won directly against Alfa Romeo. Besides, it never took victories at its home race Le Mans.

Specifications
| | | |
| --- | --- | --- |
| Model | Type 35 | Type 35B |
| Year of production | 1924-31 | 1926-31 |
| No. produced | 96 units (all 35: 204 units) | 45 units |
| Layout, Gearbox | Front-engined, Rwd, 4M | Front-engined, Rwd, 4M |
| Engine | Inline-8, sohc, 3v/cyl | Inline-8, sohc, 3v/cyl, supercharger |
| Capacity | 1991 cc | 2262 cc |
| Power | 90 hp | 135 hp |
| Torque | N/A | N/A |
| Weight | 750 kg | 750 kg |
| Top speed | 90 mph | 125 mph |
| 0-60 mph | N/A | N/A |
---
Copyright© 1997-2009 by Mark Wan @
AutoZine