Bentley R-Type Continental (1952)


Bentley was famous in motor racing from the 20s to the early 30s. In the passenger car side, the most famous model in its history could be this one: R-Type Continental. The Continental was renowned for beautiful shape and high-speed cross-continental ability. Capable of reaching 115-118 mph, Bentley claimed it as the world's fastest 4-seater then.

Since acquired by rival Rolls-Royce in 1931, Bentley was put into low gear. After WWII, its new models were all derived from Rolls-Royce cars with detuned engines and standardized bodies (instead of coachbuilt bodies). This made the marque felt second class compared with Rolls-Royce. However, in 1952 the second class image was finally broken by the introduction of Continental.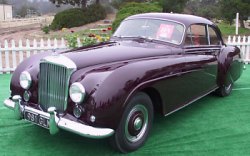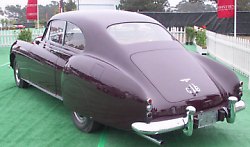 Based on the R-Type sedan chassis, the Continental was enclosed with a beautiful aluminum body built by coachbuilder Mulliner. The body was streamlined in the wind tunnel of Rolls-Royce aero engine division to ensure it cruise stably at high speed. The RR-sourced 4.6-litre inline-6 engine was tuned up to 158 horsepower. This allowed the Continental to top 115 mph. This might be easily achievable in any family hatches today, but in the 50s that was an astonishing performance for a 4-seater touring car ! at the time Autocar commented "it brings Bentley back to the forefront of the world's fastest cars."

Two years later, the Continental's engine was enlarged to 4.9 litres, raising horsepower to 172 and top speed to 118 mph. Its combination of beauty, performance and comfort brought many rich businessmen, royal families, Hollywood stars and playboys to be its customers. Of course, it was very expensive too - at £7600, it equaled to the price of 22 Citroen 2CV ! think about the price of a Pagani Zonda today.

In 3 years, Bentley built 208 examples of Continental. Today it is still the landmark model of Bentley, because since then Bentley was no longer capable of building a car so outstanding.

Specifications
| | |
| --- | --- |
| Model | R-Type Continental |
| Year of production | 1952-55 |
| No. produced | 208 units |
| Layout, Gearbox | Front-engined, Rwd, 4M |
| Engine | Inline-6, ohv, 2v/cyl |
| Capacity | 4566 / 4887 cc |
| Power | 158 / 172 hp |
| Torque | N/A |
| Weight | approx. 1680 kg |
| Top speed | 115 / 118 mph |
| 0-60 mph | N/A / 13.5 sec |
---
Copyright© 1997-2009 by Mark Wan @
AutoZine