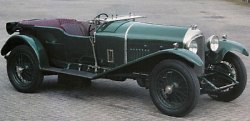 3-Litre


"The fastest lorry in the world" - this was how Ettore Bugatti described this Bentley. However, the 2-ton monster won 5 times Le Mans 24 Hours between 1924 and 30 in various forms, proving its reliability like real lorries.

Unlike the contemporary sports cars offered by Bugatti and other European sports car makers, the Bentley 3-Litre family was clearly oversize and overweight. With endurance racing in mind, W. O. Bentley designed his car to be immensely strong, reliable and enduring. While Bugatti employed a 2-litre 8-cylinder supercharged engine, the Bentley used a 3-litre naturally aspirated 4-cylinder. The mechanical simplicity reduced risk of failure, while the large capacity produced plenty of torque and allowed the engine to run unstressed. Bentley could therefore offer an unprecedented 5-year warranty to his cars.

This sounds like a lorry, but Ettore Bugatti's description might be somewhat out of jealous, because the Bentley killed his hope of winning many years of Le Mans. In fact, the 3-Litre Bentley employed very sophisticated technologies previously unheard in automotive industry, such as aluminum pistons, an overhead camshaft driving 4 valves per cylinder, pent-roof combustion chambers, twin spark plugs per cylinders and dual-carburetors. It had very long stroke to develop a lot of torque at low rev so that the engine didn't need to be stressed so much. The cylinder head and block were casted as one piece to prevent gasket leakage. All these features enabled the 3-Litre to develop 70 reliable horsepower and power the car to 80 mph (Speed model could even exceed 90 mph).

In 1924, the 3-Litre Bentley put British marque on the map of motor racing for the first time by winning Le Mans. Another victory was grabbed in 1927, with 3 more victories to be followed by its derivatives. By then Bentley became the dominating force in endurance racing. However, the tall and heavyweight Bentley never performed well in Grand Prix racing. The best result was just a second place in the 1930 French GP (by 4.5-Litre Blower).

4½-Litre

As the 3-Litre Bentley started getting underpowered compared with newer rivals, Bentley sought more performance from larger capacity - as W. O. Bentley said, "There is no replacement for displacement". He enlarged the 4-cylinder engine to 4398 cc, hence the name "4½-Litre". This was probably the largest four-cylinder engine ever made for cars. It produced about 110 horsepower in road trim and 130 hp in racing. Bentley used this car to retain the Le Mans title in 1928.



4½-Litre Blower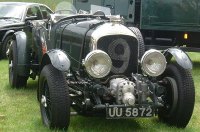 4½

-Litre Blower



Despite of racing success, the company W. O. Bentley founded never returned a profit. In 1925, he ran out of money and sold the majority share of Bentley Motors to millionaire racing driver Woolf Barnato. Barnato and a few other wealthy racers started using Bentley to realize their racing ambition. They became known as "Bentley Boys". In this way, W. O. Bentley designed race cars for Bentley Boys to race.

One of the Bentley Boys, Tim Birkin, tried to persuade W. O. to build a supercharged 4½-Litre. Unfortunately, W. O. was never a believer of supercharging. He actually hated supercharging and preferred to add more litres. In the end, Birkin got the support from the majority owner Barnato and built a stand-alone workshop to produce the supercharged car, or commonly known as "4½-Litre Blower". All without the involvement of W. O. Bentley.

The Blower can be easily distinguished from the regular 4½-Litre by the supercharger exposed at the front. It boosted the output to 175 horsepower. But the engine was too unreliable (W. O. was right !), usually led in the first half of the race and broke down in the second half. It won no major events during its life. However, because of its rarity (only 55 cars built by Birkin), today it became the most beloved model in the 3-Litre family.



6½-Litre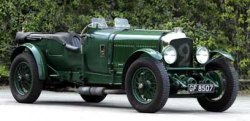 6½

-Litre Speed Six



The fact that Blower was unsuccessful didn't matter, because W. O. himself produced a winner at the same time. He added 2 more cylinders and 2 litres capacity to create a 6½-Liter straight-6. As a result, the fast version of the car was called "Speed Six". This car developed 180 hp on road and 200 hp in race. Most important, it was proved to be fast and reliable, unlike the Blower. It won Le Mans in 1929 and successfully defended the title in 1930. This was W. O. Bentley's favourite car.



8-Litre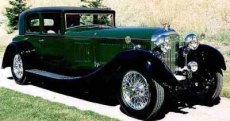 8

-Litre



Unfortunately, racing success did not transformed into business success, because Bentley did not have much business mind while all Barnato wanted was to fulfill his own racing dream as a driver (he should be contented when he won the 1929 and 1930 Le Mans). W. O. realized the problem very late: while racing earned Bentley acclaimed reputation, most customers wanted was luxurious cars. Therefore he produced the 8-Litre in 1930.

The 8-Litre ran a long chassis which could accommodate very large and luxurious coachbuilt bodies. To ensure the car could top 100 mph even with the heavy bodies, Bentley enlarged the 6-cylinder engine to a full 8-litres ! It produced 200 horsepower easily.

Unfortunately, that was already too late. The Wall Street slump in 1929 hit the whole world into recession. Barnato's wealth evaporated and he could no longer pour money into Bentley. Bentley went bankrupted in 1931. By then only 100 units of 8-Litre were produced and a little over 3000 all kinds of Bentley were made.

Shortly after that, Bentley was sold to a bidder called British Equitable Central Trust for £125,275. In fact, the secret buyer hiding behind was Rolls-Royce ! Since then RR started merging Bentley's models with its own models and ruining the Bentley marque. W. O. was unhappy and left the company soon. It was believed that the objective of the purchase was to eliminate its rival - Rolls-Royce saw the 8-Litre as a strong threat to its Phantom II Continental. Ridiculously, the car designed to save Bentley was also the car which killed its chance for survival.