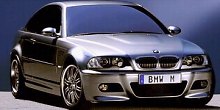 Being a benchmark compact sports sedan, BMW M3 is inevitably facing tougher and tougher competition. Arch rival Mercedes has upgraded its hot C-class into C55, with a jumbo-size V8 pumping out 347 horsepower. Audi is no less mercy. If the twin-turbo S4 is not enough to outpower the M3, the limited production run of 3,700 RS4 must be. Looking East, since 1990, Nissan Skyline GT-R has been quicker than the M3 no matter in street or Group A touring car racing. Recently even added the budget-wise WRX and Lancer Evo, while HSV Commodore is equipped with a Corvette V8 ... yet to many car enthusiasts, the term "M Power" still means greater than anything. It might not be the outcome of pure talent, instead, more the result of reputation. Of course, the Rome was not built in one day and similarly, the reputation of M Power was established gradually during the past 20 years.

The M Power legend

The story started in 1979 by mid-engined M1, a supercar by yesterday's standard. Followed by a half-hearted M-car (M635CSi) and a fake M-car (M535i), a car truly deserved the M tag eventually born in 1986. It was the first generation M3.

In many ways, the first M3 was the most sporting one among all M3s. Although it is the slowest and the least powerful, its 4-cylinder 16V engine was closely related to the experience gained from the Brabham-BMW formula one programme. Moreover, it was developed with racing purpose in first mind, hence the smallest and lightest body, the best, uncorrupted steering feel and the most eye-catching rear spoiler. It won world touring car championship immediately in 1987 and continued to be the driving force of group A racing for more years.

The second generation M3 lost all that sporting appeal. It sacrificed the lightweight theory for more power and stability, so it adopted a straight six capable of developing 286 hp out of 3-litre capacity (thanks to Vanos variable valve timing). 0-60 was shortened by a whole second, in other words, M3 became a super 4-seat grand tourer ! To satisfy the majority of customers, it gained directional stability in the price of steering sensitivity, while a lot of luxurious equipment actually made the car heavier than lesser 3-series.

The straight six M Power was upgraded in 1996 to squeeze out even more power. The introduction of Double Vanos (now also varies exhaust cam phasing) and displacement increased from 2990 to 3201 c.c. resulted in a Porsche-beating 321 horsepower. 0-60 could be done in merely 5.3 seconds.

M3 E46 Technical Insight

Compare with every previous M3s, the latest E46 M3 is the least to surprise with. Everything is predictable ... we can even say the changes are fewer than predicted.

If you get a new E46 3-series to be the basis, what will you do ? More power, more grip, stiffer suspension, lower ride height, stronger brake, more downforce, less weight of course ... wait, BMW seems didn't considered the last one. Most obvious evidence is that while all E46 3-series bar 318 now employ lightweight aluminium engine block, the range-topper M3 still relies on cast-iron block basically derived from the outgoing car. As a whole, the new M3 tips the scale at 1570 kg or 100 kg more than the 321 hp predecessor.

Therefore, a power increment is desperately needed even regardless of tougher competition. In fact, that is a difficult task for engineers, considering the existing engine is already given with all the most advanced technology - electronic throttle, Double Vanos VVT, large intake ports and low back pressure exhaust system ... the old trick, that is, increase displacement, seems no longer possible for the small engine block. Designing a new inline-6 ground up seems not very rational as it could be used only exclusively in M3. Dropping a V8 under the bonnet might punish Mercedes and Audi RS4 easily, and the developing team really tested such a prototype for a while, but the extra weight over the nose, accompany with price concern eventually discarded this proposal. Thanks God, I'd rather have the M3 remains pure instead of becoming another irrational muscle car.

Anyway, they did what they can, even bits by bits, to increase power output. Although once saying unable to bore-out anymore, they managed to enlarge the bore by 0.6 mm, thus increasing displacement slightly from 3201 c.c. to 3245 c.c., i.e., better than none. Next thing was to improve cooling to intake air flow, because that increase the density of intake air and improve volumetric efficiency. It is done by incorporating the water gaskets with cooling channels around intake ports. Then raised compression ratio to a high 11.5:1. Lastly, by using roller rocker cam followers, not only friction is reduced, but the overlapping between intake and exhaust phase during high rev is also increased.

That's all for the most obvious enhancement. Remaining are less obvious but by no means insignificant: slimmer piston which reduces friction thus raise rev, lighter crankshaft and con-rods which reduce rotational inertia, new exhaust with 40% lower back pressure, individual throttle for each cylinder and a much more advanced engine management system which I really believe is benefited from the F1 program (unlike Honda's PGM-F1 or Ford's EEC blah blah).

As a result, the new engine revs higher and extract more power at the top end - instead of 321 hp at 7,400 rpm, it now outputs 343 hp at 7,900 rpm. Peak torque increases from 258 lbft / 3,250 rpm to 269 lbft / 4,900 rpm. Most amazing is its revability - although not matching S2000's 9,000 rpm or 360 Modena's 8,750 rpm, the M-power redlines at 8,000 rpm, probably a record for such a long stroke design. You know, the 6-cylinder engine has a stroke longer than bore (91.0 versus 87.0 mm) thus by a simple calculation you'll know its pistons actually travel faster in cylinders than the aforementioned rival engines. What does that mean? it means nothing, but if you consider its specific power and torque it means a lot. 105.7 horsepower per litre is not far away from the Ferrari's 111.5, but 82.9 lbft per litre beats the Ferrari's 76.7 convincingly.

Forget the Ferrari V8. A more realistic comparison can be made with the six-cylinder engines in Porsche 911 Carrera and GT3. The former output 43 hp and 11 lbft less from 0.2 litre more capacity. The latter is helped by titanium con-rods but just manages to produce 17 hp and 4 lbft more, from 0.4 litre more displacement ! The M-power beats them both in terms of power and torque efficiency.

According to official figures, that translate to 5.1 seconds for 0-62 mph, or 0.3 sec quicker than the outgoing car. Is it really believable ? Can the modest increment of power really overcome the 100kg penalty yet achieve some improvement in acceleration ? We'll see that soon.

Revision to chassis and other parts are predictable. Base on the 3-series coupe, tracks have been widened by 40mm, hence the flared wheel arches which also adds to visual aggressiveness. Ride height has been lowered by 15 mm, accompany with stiffer setup of suspensions. By employing aluminium transverse links for suspensions and aluminium brake calipers, hence reduced unsprung weight, the trade-off in ride comfort is limited. By using tighter bushings, suspensions and steering response are quickened.

Brake discs are nearly as large as the mighty 911GT3 and Ferrari 360M - front 325 mm and rear 326 mm in diameter. Around the brakes are 18-inch alloy wheels wearing 225/45 ZR18 tyres up front and 255/40 ZR18 at the rear. The most important component unaltered is the fabulous Getrag 6-speed manual. Newer M-Sequential box is not yet released.

Rear brake discs larger than front indicate the M3 is by no means a front-heavy machine as its iron block suggest. Instead, it actually has an amazing 1% weight bias to the rear axle ! Considering the long straight six has half of itself locating in front of the front axle, the only explanations are: 1) aluminium bonnet; 2) the new Variable M-differential adds weight to the rear; 3) its donor 3-series is already well balanced.

Electronics is perhaps the most improved area. The new MSS54 engine management system was developed by the engineers working in touring car projects. It is characterised by higher processing power. Like the latest M5, the driver can select between "Normal" and "Sport" mode for driving, the latter offers sharper throttle response (remember, the throttle is drive-by-wire) and tightened the power steering to deliver more focused feel, if not real performance gain. Modern electronics started to inject fun into driving. However, DSC III stability control might not please everybody, so it could be switched off by the driver.

The aforementioned Variable M-differential is basically an electronic Limited Slip Differential for rear axle. Without it, the new M3 would have spin its driving wheels even easier than its predecessor. Its theory is simple: if one of the rear wheels spin under hard acceleration or hard cornering, or both of them, the multi-plate clutch inside will partially lock that wheel so that more torque will be transferred to another wheel without spinning. Unlike viscous-coupling or Torsen LSD, this one is monitored and controlled by electronics so that it could be more tunable to match with the car's character. Though calling M-differential, it is developed and supplied by UK's engineering specialist GKN instead.

The E36 M3 was criticised as looking too similar to ordinary 3-series. Not any more for the new M3. Apart from the aggressive front bumper which incorporates huge intakes and stylish air dam, there is a subtle power dome incorporated in the bonnet - a feature not easily imitated by fake M3. Besides, for the first time there are louvered gills at the sides, in front of the doors, which is a reminiscence of the 507, 3.0 CSL or lately, Z8. Not so many unique features at the rear, just a tiny lip spoiler at the boot lid for real aerodynamic benefit rather than look, and 4 exhaust pipes. The overall visual effect is civilised, prestige yet smarter than ordinary 3 coupe. Admittedly, that has been proved to be the winning formula of German sports sedans for years.

Apart from stiffer ride, comfort is no less than a 328Ci. Cabin and dashboard are essentially unchanged, just the dials were renewed for functional purpose. You may be disappointed by the lack of real aluminium or carbon fiber decoration, but there is a pair of sporty-looking buckets up front, while the rear seat becomes separate buckets for strictly two passengers. For a car with such a level of performance, this cabin is unbeatable for space, comfort and equipment. Moreover, the visual build quality of any 3-series is enough to shame many top-end performance cars, including 911.

On The Road

The 343 hp straight six has no much visual appeal - unlike some previous M-powers, its black cam cover is not decorated with metal stripes and the wording "M-power". Instead of the latter, there is just a M logo. Audio wise, however, it appears a lot to ears. The six-cylinder pulses play wonderful music at the 4 chromed exhaust pipes. As it revs higher, the noise becomes more intense. At 8,000 rpm, it is dramatic enough to make comparison with the mighty Ferrari V8 in 360M. Not so loud, because the 3-series has far more sound insulation, but the quality of sound matter most.

Under 2,000 rpm, the engine feels like a normal 330. It is smooth and refined, without the rough idling found in many high-rev-biased engines. Above that, the fun begins. At any rev above 2,000, the engine has the explosiveness you can hardly imagine. Ultra-sharp throttle response is one of the reasons why you can feel that, but its competence is not just limited to subjective sense. At any gear, it pulls decisively stronger than the old 321 hp engine. Through gears, it demonstrated a real supercar performance in front of stop watch: 0-60 mph timed 4.8 sec - yes, the 5-second barrier has been eventually broken by a M-car ! instead of the official figure of 0.3 sec, the new M3 is actually quicker than the outgoing car by half a second. What weight penalty ? the 343 hp engine proved that it not just squeezes 22 more horsepower at the top end but it is also more torquey at any rev, otherwise the vast improvement would have been impossible.

Further according to Autocar's test data, it reached 100 mph in 11.5 sec or a decisive 0.7 sec quicker than before. That made it nearly as quick as the 250kg-lighter 911 Carrera and the 380 hp Audi RS4. The latter just beat it to 60 mph and 100 mph by 0.1 and 0.3 second respectively. However, the M3 strike back with 0.1 sec advantage in mid-range, 30-70 mph test.

On the one hand it delivers He-man-like performance, on the other hand the Munich straight six displays beautiful balance unfound in any other performance cars in the world. Even at 8,000 rpm, it is still silky smooth. The six-speed manual gearbox also works better with the new engine so that gear change at high rev does not introduce driveline shunt. In short, the latest M-power is simply the best engine of any price in the world.

The chassis and suspensions work brilliantly to support the wonderful engine. As the car achieves perfect front-to-rear weight distribution, it balances well in any corners at any speed. Gone is the old car's understeer, now the front wheels grip hard on tarmac and resist understeer very well. With a sudden prod of throttle, it can even be driven into power slide and hold it there if you are aggressive enough and with the DSC turn off. However, to overcome its traction and grip is a very difficult task in the existence of wide rubber and Variable M-differential. Corner after corner, higher and higher g-force, the M3 still execute your command cleanly, goes wherever you point to, especially the 911-rivalling brakes slow down the car so quick before entering a corner. To discover its limit, you must first overcome your own limit of bravery.

After all, whether the new M3 can match the status of the original M3 mainly depends on steering feel, which is the only fault for the outgoing car, nor is what the current 3-series renowned for. Thanks to the suspension work, stiffer bushings and improved power steering which reduce assistance, it steers remarkably accurate on turn-in, informing the driver what's going on under the front wheels. However, the steering feel is meaty, not delivering the same pure feedback as some sports cars such as Lotus Elise and 911, mostly blame to the weight over front wheels. While those cars tell the drivers details about the slightest molecular make-up of the tarmac, the M3 filters those information and give you a refined, kickbackless feel. It might be an advantage to most target customers of the car, but keen drivers always prefer as much steering feel as possible. Although it is already far better than the outgoing car, it is the only area the new M3 might need to improve.

As for ride, unsurprisingly, the good E46 basis provides a remarkable ride smoothness despite of those low profile tyres. It's far more supple than the stiffly-sprung RS4. In addition to the spacious and well-built interior, M3 is easily the most comfortable sub-5-second supercar.

Even more remarkable is the bargain price of £38,500. This makes the life of the forthcoming Mercedes C32 AMG and Audi new S4 difficult. By the way, I also have high hope on these two cars, which could possibly provide better steering feel than the M3. However, in terms of engine, undoubtedly the M-division of Munich still makes the best.