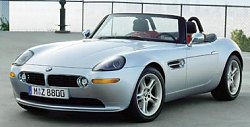 From 1989 to 1999, BMW produced a V12 coupe called the 8-series. However, being seriously overweight and overpriced, it didn't capture the hearts of customers. Eventually, BMW decided to terminate the 8-series and introduced a new flagship roadster instead.

Z8 was not a successor to the 8-series. That task would be fulfilled by the new 6-series a few years later. It was not an upmarket extension of the Z3 either. BMW had two goals in the car: firstly, to experiment the new styling and aluminum spaceframe technology, the latter would be applied to Rolls-Royce. Secondly, Z8 was intended to be the image car for BMW.

Designer Chris Bangle gave it a retro look that was said to be inspired by the BMW 507. Referring to the pictures in my 507 page, you can tell me how similar they were. No, apart from the wide double kidney grilles, the Z8 looked very different from 507. Instead of the sleek profile was a fat and brutal body with high bonnet line. It felt heavy and muscular, without the sense of smoothness and lightness of the 507. When we call it retro, originality must not be in its mind. Therefore you'll see Jaguar E-type's tail, Fiat Barchetta's headlights and Aston Martin's side ventilation holes (to please James Bond ?). In other words, the Z8 was actually a mixture of various car makers' effort rather than following BMW's tradition. And you know, as a car maker always looking forward, BMW does not have a tradition to go retro.



Chris Bangle gave its styling a wrong direction, but the same couldn't be said for the underbody. Here, aluminium spaceframe chassis was first ever used in a BMW. The ASF, whose components were mostly made by extrusion, was not only 30% lighter but also very suitable for small scale production. Most body panels were made of aluminium alloy and they also contributed to the structural stiffness. The bumpers and inner flanks at the rear were made of plastic. The overall kerb weight was.... my God, 1585kg ! this was quite overweight for an "aluminium" 2-seater.

The engine and running gear were directly transplanted from the E39 M5. The 4.9-litre V8, fitted with Double Vanos VVT, delivered a supercar-chasing 400 horsepower and 369 pound-feet. Power was transmitted to the rear wheels via a 6-speed manual gearbox. As the big engine was positioned well behind the front axle (so that the driver sat just in front of the rear wheels), BMW claimed a perfect weight distribution between front and rear: 50:50. Massive rubbers - 245/45ZR18 front, 275/40ZR18 rear - ensure a lot of grip generated.

Suspensions were MacPherson strut up front and multi-link at rear like the M5. Again, aluminium was extensively used in the construction of suspension. Unlike the M5 and all other V8 BMWs, it featured rack-and-pinion steering instead of recirculating-ball steering in order to improve steering feel.

On the road, Z8 displayed a diverse manner - brutal yet refined. Brutal was the way it put down the 400 horsepower, of course, in case the DSC stability control was switched off. Under hard acceleration, it spun and smoked the rear tires in a way like American muscle cars. The noise from the V8 had become deeper and rawer than M5's, thanks to the huge exhaust pipes. It might not be better to ears, but certainly more suitable to the image of Z8.

On the refined side, Z8 was actually very comfortable and easy to drive. The spaceframe chassis felt extremely rigid so that any driveline shunt or steering wheel vibration did not exist at all. It cornered quickly without scary, with huge rubbers gluing to the black top so that a lot of adhesion was always reserved. The clutch was light and smooth to operate, the Getrag 6-speeder was delighted to be shifted. Despite of the near 1.6-ton kerb weight, the powerful brakes stopped the car effectively. Ride quality was very good. As the super stiff chassis was free of bending or flexing, the suspension could concentrate on providing supple ride without hurting body control.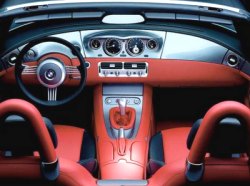 However, was it as engaging to drive as direct rival Porsche 911 GT3 or 911 Turbo ? no. Although it lapped Nurburgring some 9 seconds faster than M5, which did that in 8 min 24 sec, it never felt as quick. Too refined was one reason, but it was largely due to the lack of steering feel. Sadly, the 2.8-turn variable-ratio rack-and-pinion steering actually offered less road feel than M5's recirculating-ball design. Initially, it felt quick and direct for turn-in, but at near lock positions, steering feel faded out. That's a big mistake for a sports car. On the other hand, the long wheelbase, hence large turning circle, made it less nimble than the quick steering ratio suggested.

On straight, Z8 could sprint to 60 mph from rest in 4.7 seconds. That matched a 911 Carrera. Top speed, however, was once again electronically limited to 155 mph, although the poor aerodynamic drag of 0.39 would not allow the car to go beyond 170 mph anyway.

So what was it? not a real purposeful performance car as Porsche, nor a direct rival to the relaxing Aston DB7 Vantage. The Z8 was a compromise between two poles of the world. It offered life style, comfort and refinement that most rich people wanted everyday while provided supercar performance for an exciting weekend. Most people found M5 the more logical choice, but being a pure roadster Z8 could attract different kind of customers - some 5703 people, to be exact. It was quite spectacular to look at and to sit in - the retro interior was beautifully styled and made. So it was still a success for BMW. This was the most spectacular BMW sports car since M1.