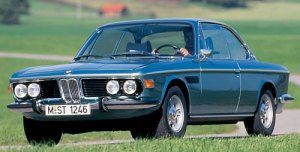 BMW CS series was one of the masterpieces of the 70s. Few cars in history could deliver a combination of style, driving enjoyment and motorsport success like this car. On the road, the CS was highly praised for beautiful style (to me, until today no other BMW coupes can compare with it), superb straight-6 engine, good handling, elegant interior and everyday usability. In the motorsport world, its racing version 3.0CSL dominated the touring car scene during the 70s, winning European Touring Car Championship for 6 times!!

The CS started life in 1968 in the form of 2800CS, which means 2800cc, Sport Coupe. It was derived from the earlier 2000CS, but the modifications were so thorough that BMW simply gave it a new codename, E9, instead of type 120. Compare with its predecessor, it received lengthened wheelbase, a major restyling, new suspensions and, needless to say, the marvelous M20 six-cylinder engine. This engine was remarkably smooth, flexible and powerful for its capacity (170hp). The car also shone in other areas, from handling, ride, comfort to mechanical refinement. Very all-round indeed. At the time Car and Driver wrote: "By any standard in the world it rates as a truly great automobile - an automobile that yields enormous dividends in driving pleasure.. excellence, competence and a car that's near impossible to match anywhere in the automotive world."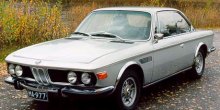 The styling was also a source of joy. A forward-angle nose made it look like a shark. Low waist line, large window area and very slim chromed pillars created a light, simple and elegant image. In fact, at 1355kg, the 2800CS was not all that light. Obviously, more power would be welcomed. In 1971, BMW enlarged the straight-6 to 2985cc, so the car became 3.0CS. Power raised by 10 horses while 0-60 mph shortened to 8.0 seconds. Top speed became 132 mph. The 3.0CS started a new era for BMW coupes. When Autocar tested it in 1971, it praised the car's free-running engine, quietness, ease of control, taut and well-damped suspensions and friendly handling. "A quiet, very comfortable, express transport. It scores over some of its competitors in being more compact and practical as a town car, while still very fast and manageable as a main road express. We thoroughly enjoyed driving it, and its appearance aroused admiration wherever we went in it."

But better things came later that year - 3.0 CSi. The "i" in its name implied a fuel injection replaced carburetors and yielded another 20 horsepower. Now with 200 horses under the bonnet, the CSi needed only 7 seconds to sprint from standstill to 60 mph and it could cruise in Autobahn at 137 mph.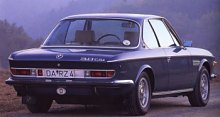 3.0CSL



The CS was not only a superb coupe for everyday driving, it was also a good basis for motor racing. This all-round character is extremely rare in automotive history, and it has been lost in today's BMW coupes. Undoubtedly, racing pedigree enhanced its classic car status.

As early as 1971, BMW launched the 3.0CSL (L stands for Light) to homologate German Touring Car Championship (later became European Touring Car Championship). Early cars had the same 180 hp carburetor engine as 3.0CS, but it adopted a lightweight body built by Karmann, with aluminum doors, bonnet and trunk, thinner steel panels, plexiglass windows, lightweight sport seats and deletion of virtually all comfort features (such as power steering and power windows). As a result, the CSL had its kerb weight reduced dramatically from 1400 to 1165 kg. Besides, it got stiffer suspensions, lower ride heignt and aerodynamic tweaks like a big air dam and a tiny boot spoiler.

Next year, the CSL engine got fuel injection like CSi. Moreover, it was enlarged slightly to 3003 cc in order to fall in the higher capacity category, as this would allow the racing engine to grew even larger. Power and torque remained the same as CSi, i.e., 200 hp and 204 lbft. But the lightweight body enhanced performance and handling a lot. Now 0-60 mph was reduced to 6.8 seconds only.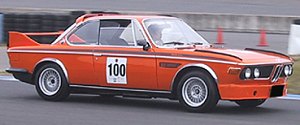 In 1973, BMW produced the ultimate CSL, nicknamed "Batmobile". It got a huge rear spoiler (which reduced drag by 16 percent), a big front air dam, rubber longitudinal wind splitters on the front fenders and an additional air guide mounted on the top of rear window. The rear spoiler and air guide were available as additional kits because they did not comply with European regulations. Besides, the straight-6 engine was enlarged to 3153 cc, thus raised output to 206 hp. Only 109 "Batmobiles" were built, so they are rare and become the most desirable member of the CS series today.

In the motor racing side, the CSL won 6 championships in European touring car racing (in 1973, 75, 76, 77, 78 and 79). The racing version had its 3.2 engine tuned to 340 horsepower, and later upgraded to a dohc 24V 3.5-litre good for 480 hp. The Group 4 CSL even employed a 3.2 dohc 24V turbo engine with 750 hp and 212 mph top speed ! they beat the contemporary Porsche 911 RSR and 935 and set the brightest record in the company's motorsport history.

Were there any weaknesses? yes, the Karmann built body was notorious for rusting, so never drive the CSL in rain.